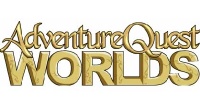 Adventure Quest Worlds is a 2D browser based free to play MMORPG from Artix Entertainment. When it comes to side scrolling Free MMORPGs, this is one not to be missed if you are a fan of the genre. With a unique art style, 1000s of quests, and simple game play. Adventure Quest Worlds has captured a large audience and loyal group of players over the years.
With nothing to download and quick and easy start up, keep reading if you are looking for action and quick in this fast paced FTP MMO.
The Game
This game is definitely designed very well. There is no need for special browsers, plug-ins or installations. You can adjust the screen size to tiny, normal, larger or huge depending on what suits your eyes.
You can also run other browsers without problems or freezing screens. Some improved features are that it gets started quickly and easily, multi-classing is enabled, and travelling via the world map is very swift. I do like the color scheme and general game set up. Additionally, there are many quests to complete and you can repeat them. There are magic, dragons and monsters to slay. It is an impressive game for sure.
However, the one minor limitation is that non-paying members have some options and access to content, quests, and maps limited, but these are very few and overall the majority of the game can be enjoyed from a free to play standpoint. If the team had made Adventure Quest a 3D game, it would have defiantly been the biggest hit the year. Another feature which could have been changed is that upon exiting the game some of your progress gets reset, not much but a few minor items and such, this is a very minor inconvenience, and only increases the ability to adventure more. So you have to start a few collection quests and such all over again, but like I said, these are very minor inconveniences. There are some minor chat rules, it is more of a younger players game hence it doesn't appeal to everyone, but still does have very broad appeal overall.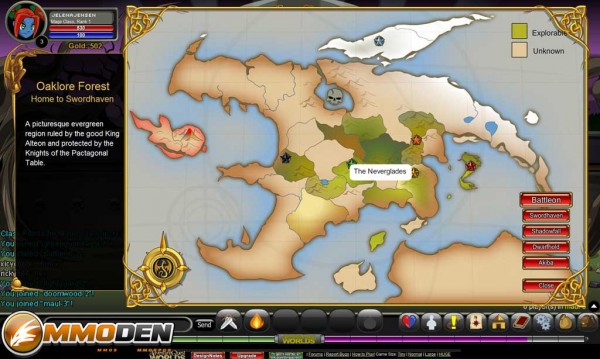 Creating your Hero
This is the usual ritual with all MMO games. You get to make your image – literally speaking. This is the best part of the beginning. There are four classes to choose from. After that, the player customizes the appearance by choosing a hair color, hair style, skin and eyes color. The graphics are remarkable for 2D; and the games style has made its impact indeed.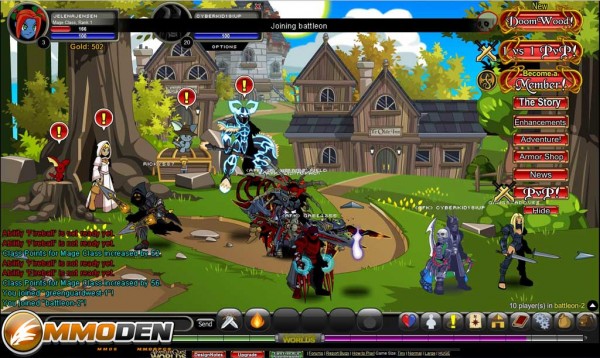 An Adventure in Classes
There is multi-class support in Adventure Quest this time, and there are four classes, players get to select from. These classes are:
The Healer: These work best in a group setting, and do well enough alone as well. They get upgraded to the Acolyte as the game progresses.
The Mage: These are spell casters and they use a wide range of spells. This class of players has enough damage tolerance and relies on mana for protection and healing. As the game proceeds this class upgrades to the sorcerer.
The Rogue: These are shifty and combat figures, and cause a lot of damage to their enemies. However, they have low defenses. These upgrade to the Renegade class.
The Warrior: These are the main battle figures in the Adventure Quest. They are designed for skirmish and have high armor, powerful attacks and enough health. These upgrade into the Warlord.
There are several other classes, many of these are only available to paying players, but there are many that are available to non-paying players as well. Thus giving the game a well rounded amount of classes that will give any player hours on end of playability. Of these there are some interesting and enticing ones for sure such as the Pirate, Beast Warrior, Ninja, Paladin, Vampire, Berserker and Witch to mention a few. There is a lot of fun and adventure for sure. The game really does not want to limit any player, paying or non-paying, and this is somewhere that they do an excellent job.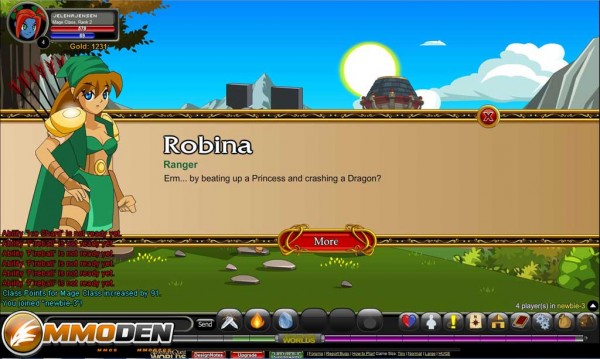 Playing the Story
New players may need to go through the prologue of the game, which are cut scenes showing the player falling to the depths of a forest. They encounter Ebil, the evil creature who reveals the knowledge of this world to the player. The world in this game is known as Lore. The movement battle moves are mouse controlled. If you want to use manual controls you can adjust the settings however, it may be cumbersome for some players. Especially when the player has to cover longer distances, using manual keys slows things down. Using the map does make things a lot easier.
As you come across monsters to engage them and get into combat, left clicking the mouse is all you need to do. Once you get into battle other players will be kept away, except for those on the same side as yours. There are skills and spells to use, you also get to use mana to heal and get your strength back.
As you defeat monsters, your experience increases and so does your gold. You can use the gold to purchase and enhance weapons by buying new upgrades. The better the weapons the easier and quicker you can handle the monsters. Items collected or looted are kept in a temporary bag but – to our dismay they are lost once the player logs off. If MMO could do something about this, Adventure Quest would be much more interesting than it is right now. At least then, players who like progress would like to return sooner.
There is a handbook and design book available on the official site. Reading them helps players a lot because they get guidance on how to play the quests and what they will need to do. It is easy to read and understand, and is designed for the ease of use for children.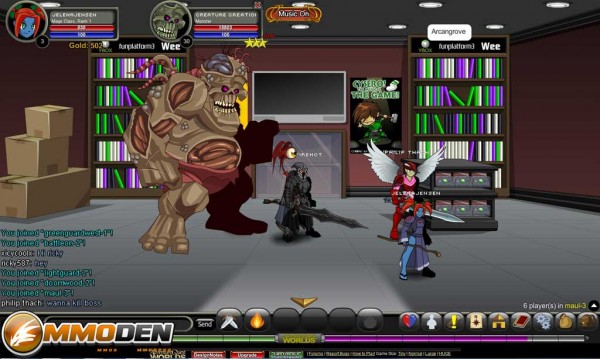 A Price to Play
To enjoy everything about Adventure Quest, players must upgrade and this means paying some money. Free players have some minor limitations, but the majority of the game can be enjoyed by those players looking for a free experience, but if you want the full game experience then spending a little won't hurt your wallet, plus it never hurts to support those who are giving you hours of enjoyment. Three membership subscriptions are available, and come in terms of three months, six months and a year. The prices are $19.95, $34.95 and $49.95 respectively. Additionally, players pay for "AdventureCoins" as game currency. These Coins will open up many other options for the players.
Paying cold hard cash is not the only way to get upgrades though, the game has alternative methods that allow players to take small surveys and such that will unlock items and other in game opportunities. One place that the game has done very well is giving players options when it comes to their level of commitment.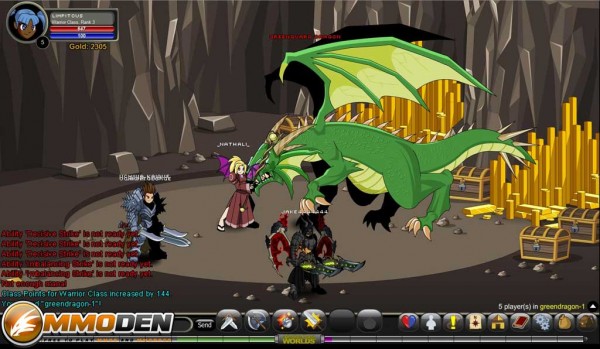 The Final Word
Adventure Quest Worlds offers a lot of adventure, quests and is generally fun to play. It is user friendly, good for children and easy to get started and to play. Generally speaking; it is an enjoyable game, and has a lot to offer both casual gamers and the hardcore alike. With the game also being consistently updated, that is just one more positive aspect that comes along with the solid gameplay. You will also never lack for individuals to share your adventures with, Adventure Quest Worlds is loaded with players at all times, and the game does a very good job of keeping everyone centrally located and easy to find.