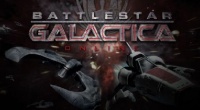 Set in the vast expanses of space, this free to play Sci-Fi MMORPG boasts absolutely stunning 3D graphics. In this FTP get behind the wheel of your very own ship where you are the pilot! Step into a cinematic world, take your ship for a spin and experience the infamous FTL—faster than light—travel.
Developed cooperatively by both Artplant and BigPoint, Battlestar Galactica Online is based on NBC Universal's ever popular Battlestar Galactic Franchise. BGO is published by BigPoint by way of the Unity Web Player and was released in open beta form on February 15th, 2011. BigPoint is also behind Farmerama, SeaFlight, and Dark Orbit, just to name a few.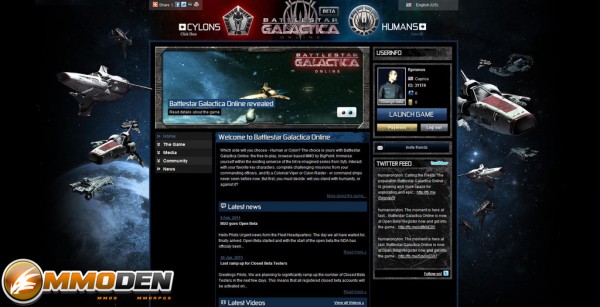 Cylons or Colonials???
Players who are not familiar with the Battlestar Galactica TV series will enjoy this game just as much as seasoned fans. Battlestar Galactica Online picks up 40 years after the initial Cylon war. As the story goes, man created the Cylons, they evolved, got too big for their britches, and then revolted. The Cylons attacked the Twelve Colonies with the intention of annihilating the humans and stealing their resources. The Battlestar Galactica survived the attack, gathered a fleet of civilian ships, and headed back to earth—the 13th Colony. For months, the Cylons followed the Battlestar Galactica. When the Battlestar Galactica finally reunited with Pegasus, they were capable of retaliation and destroyed the Cylon's Resurrection Ship.
Upon discovering the destroyed Resurrection Ship, the Cylons launched a counter attack against the Colonial Fleet. The Colonials were able to jump to safety but endured a serious mechanical malfunction which caused an energy overload of the FTL. That surge triggered an uncontrolled jump which, in turn, tossed them off target. The Colonials are now racing to repair, rebuild, rearm their ships, and escape to Earth before the Cylons are able to destroy them for good.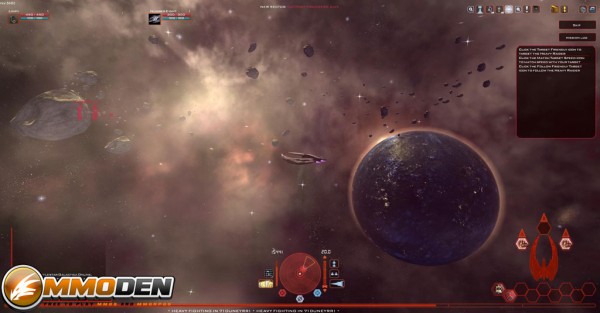 Welcome to Space
Once you have created an account, you may sign in. If you are a Facebook account holder, signing in through that account will save you an extra step. Next you choose your side, Clyon or Human.
After choosing whether to be Clyon or Human, you will arrive at character creation you'll choose whether you want to be male or female. You'll also be given several hair style and hair color options. Then you'll choose a face, skin color, suit, and whether you want a helmet and or glasses. The character customization in Battlestar Galactica Online seems strangely similar to that of EVE Online—another Sci-Fi based MMO.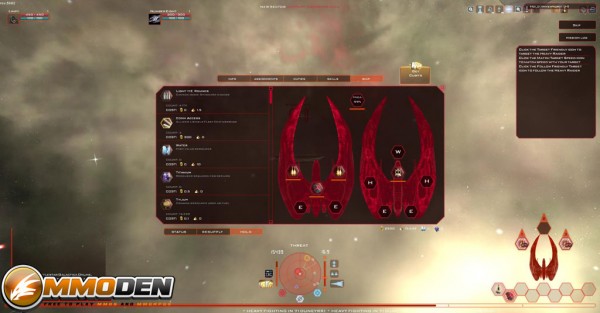 You will then choose from one of two battle ships. Now that you've decided which side of battle to take and which ship you will be using in combat, you'll be taken through a brief tutorial which will teach you how to control your ship. This tutorial only lasts a few minutes… it's short and to the point. Not to worry about which battleship to choose as both ships perform almost equally in all required tasks. As gameplay progresses, you'll be given the opportunity to pilot more specialized ships. At this point, your choice is based mostly on esthetics.
Once you've walked through the tutorial, you'll be directed to dock where you can walk around and talk to various NPCs as well as receive quests. At that point, a window will open that takes you through all other aspects of the game. While it's not my favorite form of tutorial, it's very easy to navigate and gets straight to the point.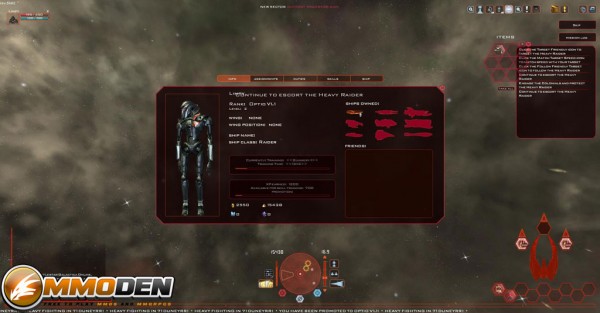 Battlestar Browser
Throughout gameplay you'll have the opportunity to explore various worlds, as well as unlock ships and their parts, and new weapons. Battlestar Galactica Online features a uniquely fun combination or 3rd person RPG components and an arcade style flight simulator. Most of this game is spent operating your battle ship and is a nice addition to the MMORPG genre.
Battlestar Galactica Online has phenomenal 3D graphics and animations like that of a DVD PC game or client based FTP, however it runs on a very small, quick, and simple browser based download—the Unity Web Player. In fact, when switching to full screen gaming Battlestar Galactica Online feels and behaves just like a client download. For those gamers who are familiar with Dark Orbit or Eve Online, BGOs gameplay will feel very familiar.
The UI is clean and very user friendly. Battlestar Galactica Online also has a nice chat system, which is monitored by a live moderator, that allows players to communicate freely throughout the course of the game. To maintain a high level of integrity and cleanliness, foul language is forbidden and will cost you a 24 hour ban from chatting. Also, the moderator has the authority to remove—by banning—any players from chat who harass other players or are deemed abusive.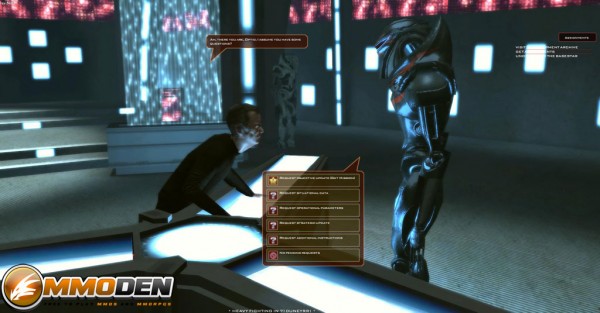 Galactic Grind
It's quite unfortunate that the storyline in Battlestar Galactica Online is so shallow. Even the NPCs don't add much in the way of storyline depth in this FTPMMO. Needless to say, if you're interested in a story driven gaming experience, you'll be sorely disappointed.
While player versus player gaming is liberal and generally accounts for most of Battlestar Galactica Online's gameplay, gameplay does become very repetitive. The quests are quite repetitive as well. I should also mention that there is nothing in the way of public quests or dungeons that initiate teamwork and this is very disappointing in a MMO. There is also no PVE activity or anything resembling a crafting system. All of this combined really makes this game feel almost meaningless.
With that being said, the point and skill systems atone for what this game lacks. Mining and battling enemies are the core of Battlestar Galactica Online as they reward you with XP and the ability to progress through the levels. Training points are also accumulated as you gain XP. Skills are divided into two categories: primary and secondary. Primary skills have no ceiling with the exception of available training points. Secondary skills may never exceed the level of their primary counterparts. XP progression is slow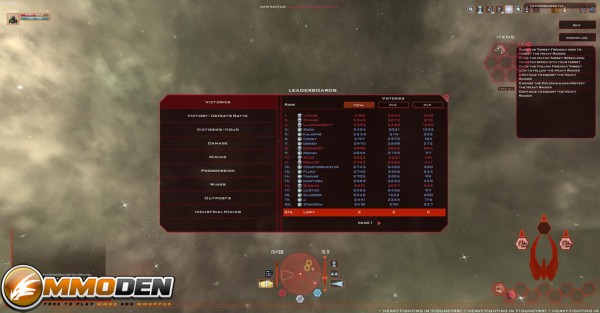 Currency and Resources
The main game currency in Battlestar Galactica Online is the Cubit. Tylium, water, and titanium are resources that may also be used as currency. Cubits are hard to come by and need to be saved in order to purchase anything worthwhile. This is very unfortunate because it encourages Wallet Warriors to purchase game currency with cold hard cash, and in turn, puts them at an unfair advantage.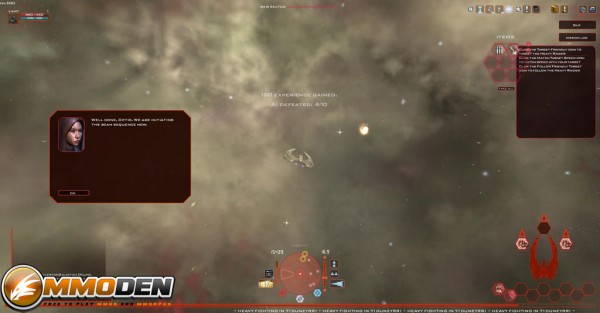 The Final Word
While the storyline is lacking in, well… storyline, the PvP based gameplay is flat out awesome! The point and skill systems both help to make-up for what this MMO is missing. What's more, customizing your ship is a lot of fun and there is a lot of variety and add-ons. Not to mention the incredible 3D graphics, which are a rare find in any MMO.
Putting all those wonderful traits together in a MMO that is solely browser based is quite groundbreaking and really sets the standard for future FTPMMOs. Who wants to download if they don't have to? I would highly recommend this game for both sci-fi fans and non sci-fi fans alike.
Videos