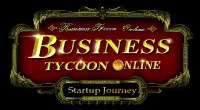 This FTPMMO is a real change of pace from the average. The huge selection of free-to-play role-play games is just staggering; not to mention first-person shooters and the like. One particular game development team realized that it was time for something different and took the initiative to bring us a very unique find—a free-to-play browser based sim! So keep reading and we'll investigate this rarity and determine whether this FTP is worth your time.
Both developed and published by Dovogame, Business Tycoon Online—often called BTO—was released in open closed beta on January 18th, 2010. Shortly thereafter, on January 28th, 2010, BTO went into open beta. Dovogame is also the name behind the real-time strategy war game WarFlow. Dovogame is a genuine trend setter with its creation of this rare breed of MMO—a business simulation browser game.
Quick and Easy
Since all you need is a working internet connection, getting started is quick and painless. No nasty downloads are required—just sign up and enjoy! Acquiring a Dovogame account is incredibly simple as an e-mail address and password are all that is necessary for account registration. You can also connect conveniently by using your Twitter, Facebook, Yahoo, Google, Myspace, or Windows Live accounts. Once you've logged in and launched BTO, you'll be prompted to created your username. You'll also have the choice of one of four industries:
Entertainment Industry– This industry includes businesses such as arcades, billiard halls, casinos, and clubs. Entertainment Industry tycoons enjoy a 5% decreased tax burden as their bonus.
Sales Industry– The keyword here is retail. This industry is rough but can be quite rewarding. The Sales Industry includes businesses such as bookshops, gift shops, and malls. Sales Industry tycoons enjoy a +5% raw materials and production supply rate bonus.
Service Industry– The Service Industry includes business such as massage parlors, barbershops, and tattoo parlors. The Service Industry's bonus is a +10% increased success rate for recruiting experienced workers.
Catering Industry– Starting off with businesses such as snack shops, those who work in the Catering Industry will aim to run resorts and hotels. Their special bonus is a -50% employee salary bonus.
After choosing your industry, the next step is choosing your personal secretary and there are 10 secretaries from which to choose. While each secretary comes complete with a bio, their focus seems to be more on their provocative attire rather than their professional pursuits.

This Liberty City, Not That One
No, this is not Grand Theft Auto 3. Liberty City—where most of the BTO action takes place—is divided into 6 zones. Those zones include: the Central Zone, the Downtown Zone, the Commercial Zone, the Residential Zone, the Industrial Zone, and the Tourism Zone. They're pretty self-explanatory.
Players are given the opportunity to visit some foreign locales where they can gain XP and attribute points. However, those vacations are quite costly. There are several locations in the game which players can visit—one of the most important being the Welfare Center. The Welfare Center will prove vital to your gameplay as a newbie because it provides you with a daily package. What's more, gamers are rewarded with various items for simply being signed in.
Another location to visit is the Mayor's building. A visit to the Mayor's building will provide you with current information, including the tax rate. You may also visit the car dealership where you can browse through a selection of cars, bikes, motorcycles, and even private planes. Purchasing a vehicle will make your character more efficient by shortening his routine and even reducing the time it takes to recharge.

Your Business Angel
Once you've started playing Business Tycoon Online, your first goal will be to raise capital as BTO has taken a true to life approach with its gameplay. The in-game currency of BTO is called TCN. BTOs premium currency is gold—otherwise referred to as gratis gold. Gratis gold may be used to invest in faster upgrades and powerful items. You'll soon meet the NPC, Michael, who is your angel investor. Michael provides you with financial support in exchange for a small percentage of ownership in your business.
Another purpose Michael serves is to assign newbies with quests. Those quests are geared to get your business established and include tutorial like tasks such as opening your first store and hiring employees. Those quests are not only informative, but rewarding. Rewards are given at the completion of each quest and include: TCN, gold, and ability points. Ability points are used to increase your Strategy, Wisdom, and Leadership skill stats.

The Browser Design
If you're familiar at all with browser based gaming, then you already know that most of them are designed to be played in short increments throughout the day. Most tasks are repetitive, such as hiring employees and stocking and upgrading stores. As I mentioned before, BTO provides gamers with very lifelike gameplay. So, while maintaining your stores is important, it's not the only aspect of this game.
To build clientele, you'll have to advertise your business. Advertising can be done by through one of four media outlets. Those outlets are newspapers, internet, TV, and radio. You can make your secretary useful by delegating particular tasks to her. When designating tasks for your secretary, you will obtain generally higher rewards when those tasks are completed.

User Friendly, Grammatically Challenged
BTO has a very user friendly, and comfortable UI. It is well organized and very methodical which keeps confusion to a minimum and speeds up the learning process. Unfortunately—and as anyone else who has played BTO can tell you—the English translations are just plain terrible. There's really no other way to describe it. Yes, we know this is a Chinese game and most seasoned FTP gamers have come to expect poor language translation. But if you're going to bring a game to America, at least give the translation a bit more effort. Not only is the translation issue an annoyance to English players, but at times it can be flat out confusing. What's more, there is much gender confusion as female employees are found to have male names and be called "he" instead of "her."

Bait and Switch
So you've found this free-to-play game and said, hey, this looks fun and unique. You sign up, create and account, and jump right in. Things are going great until the rug is pulled out from under you with the realization that the game you are playing really isn't free. Well, you can play for free… but to roll with the big dogs and enjoy any worthwhile perks, you'll have to dish out some cold, hard cash. You see, players start with VIP access and are free to enjoy all the perks and benefits, but this only lasts for awhile. Within a few days, your VIP status is revoked and the 25% revenue bonus, guild options, and ability to purchase goods in mass go right along with it. I find this very misleading and incredibly annoying… not to mention, very unbalanced.

The Final Word
Business Tycoon Online offers a refreshing change of pace for the MMO sim genre. What's more, BTO offers a complexity rarely found in browser based games. Establishing a business, running stores and factories, and even joining government politics can be fun and immersive. The most unfortunate aspect of BTO has nothing to do with its gameplay, but rather its economical structure. Gamers are started with VIP status which gives them a significant advantage in gameplay. Once the initial period has passed, the VIP status is abruptly removed and in order for players to be even the least bit competitive, they will have to buy the VIP membership with real money. The result is a very unbalanced game.
Other than the significant lack of balance in this so-called free-to-play, BTO is a very entertaining game. If you really want to play for free, however, you'll simply have to accept that you won't be able to compete effectively with other players.