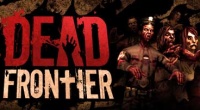 Every now and then, we come across a newly launched free MMORPG, which seems quite interesting and addictive with a promise of being unique. More than often, this promise is broken, the game starts to show its age after only a few hours or days and it feels like its makers have completely abandoned it altogether. In many ways, Dead Frontier is different than such games, different in its very true sense.
First of all, Dead Frontier is essentially the only browser based zombie-bashing MMORPG. So, it has to be different than any other MMO. This makes it worth trying without any argument. Secondly, the game is also one of those few MMOs which keep upgrading before players get bored or uninterested. So, it wasn't really a surprised when this 2D browser-based game released in 2008 is now a 3D game with dozens of new options.
The game is developed and operated by Creaky Corpse, formerly Jagged Blade Games. We don't really know them for any other title but for the fact that they have been very active maintaining and upgrading Dead Frontier. Despite the caustic criticism this game receives, the game has managed to attract 850,000 users, and the number is rising by hundreds each day.
Zombies Zombies and more Zombies Storyline
If by any chance you end up in a city or town infested with the undead, the first thing you would wonder would be 'where do they come from?' Dead Frontier gives quite a logical (well in a zombie movie fan sense) explanation of what happened to those poor once-humans.
Actually, the story sounds like yet another take on Resident Evil, but since it hasn't been done in this genre before, we'll give it the credit for originality. The story takes place in Dead Frontier of Fairview after a deadly virus outbreak of N4 virus that started after an experiment went wrong in Secronom. As a result, zombies are all around!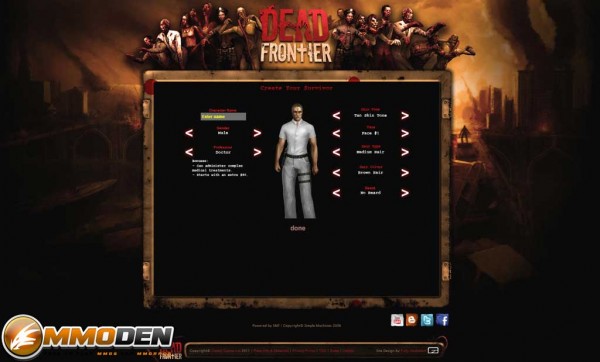 Choosing your Profession
Death Frontier offers to the point character customization. As you start the game after signing up, you will find yourself in the character customization area. Here you can decide a name, gender, profession and change several attributes including hair color, facial expressions and beard etc.
Profession is ultimately the attribute with most influence on the actual game play. There are nearly twenty professions classified in four classes.
Production Professions– These professionals can create or craft items for their own usage, or they can sell the item. The higher your level, the higher the quality of items you can create. Farmers and scientists belong to this class of professions; they can create food and medications.
Service Professions– These professionals have everyday skills that help them in survival. They can learn new skills to enhance their set of services. They can be hired to provide services to others. This class includes doctors who can heal, chefs who can prepare food and engineers who can repair your armor.
Stat-boost Professions– with a high level of physical training, these professions offer you a visible advantage in combat. These include boxers, soldiers, police officers, firemen and athletes.
Role-playing Professions– with no apparent skill or strength, role-playing classes offer an advantage of fast level ups. However, like all classes, you can train your avatar to increase your stats and learn new skills. This class includes teachers, priests, lawyers, accountants, journalists, actors, stock brokers, architects, entertainers, and students.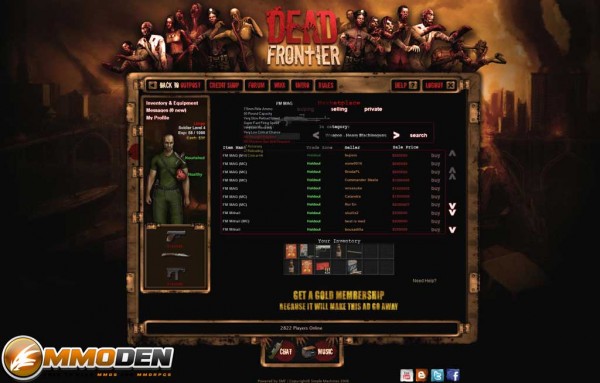 Action Packed Gameplay
While many would disagree, Dead Frontier truly is a MMORPG with all the necessary elements including missions, combats, leveling and PvP'ing. The very first thing you would notice may be the odd birds-eye view. Yes, this is how you are going to be playing the whole game. Don't worry! If you have ever been the classic GTA 1 and 2 fan, the view is sweet nostalgia.
Controls are quite simple, more like what you are used to in shooters these days. Use WASD for moving around and mouse to aim and shoot. So, the overall learning curve may not be very steep but the game is definitely challenging. There are zombies everywhere and they are faster than the conventional zombies.
The game offers an interesting range of weapons, missing nothing from bloody chainsaws to deadly explosives. No matter which profession you chose, you will start the game with a pen knife and a beta tomcat. Jumping right into the action, you must head to the inner city and start taking down all the zombies you find lurking out here. Killing zombies is not all you've got to do. The dead 'undead' will drop a lot of precious loot, for which you will have to search the bodies.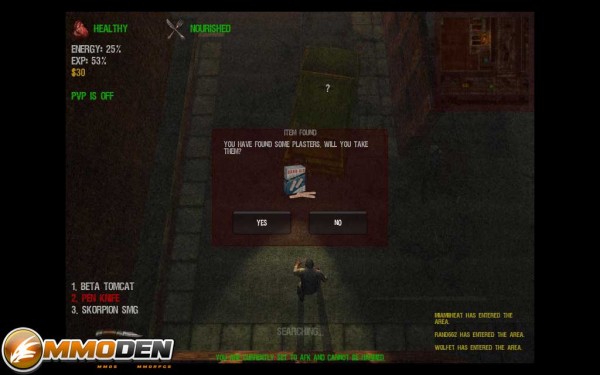 While confronting the zombies in Dead Frontier, there are three things to watch out for, health, ammo and hunger. The more healthy and content you are, the better your chances of surviving. Now you will need certain skills to help you keep your stats intact. You can also buy items and services through the market. However, one very unique thing about the market in this game is that it is not controlled by NPCs but by real players.
You can enable the PvP mode to start the zombie massacre along with a friend. Now, this can seriously be fun. What adds to the fun of zombie-killing in Dead Frontier is the realistic detail. For instance, zombies are not as mindless as you think. If you'll make loud noises, you'll get the attention of more zombies.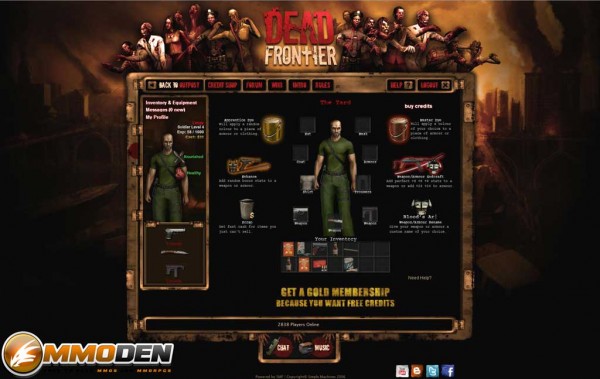 Graphics and Sounds
Even when the game was purely 2D, the graphics were quite amazing for a flash-based browser game. The colors, fonts, and over all look was pretty dark and bone-chilling, given the over all theme of the game. So, it was quite appealing nonetheless. Now that the game has gone 3D, graphics are still better than most browser based games around. The only problem may be the birds – eye view.
Creaky Corpse has done quite good job with the sound effects. The overall music is ominous indeed. Just what you need for a zombie-killer. It helps increase the game's terror level a bit. On the other hand, sounds really play an important part in the game play as you will hear the moaning of the zombies as they approach.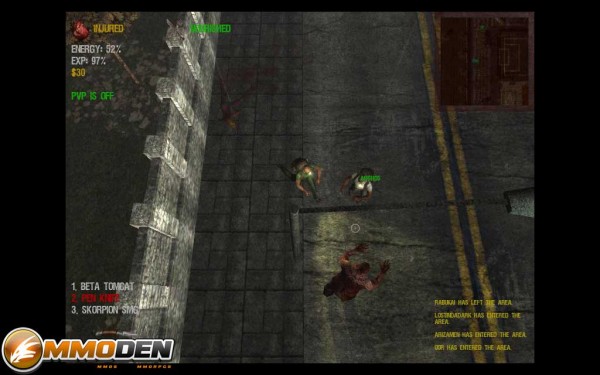 The Final Word
Hands down, Dead Frontier is a game worth playing for many reasons. It is a zombie-slashing shoot'em up free to play MMORPG, it's browser based, it's 3D and it's damn fun. Not to mention the game's soundtrack will suck you right in! So, unless you are a real fanboy of high resolution fancy visuals, we recommend Dead Frontier as a must try for every gamer around.