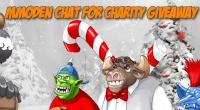 Hello Everyone,
As many of you know MMODen has started streaming on twitch.tv. Well now that the holiday are upon us, it is time to put those live streaming sessions to good use. This year MMODen and Limpy will be donating toys to underprivileged children for the holidays. So you are probably asking, how do the two tie together. Well let me explain.
MMODen each week gives gamers fun prizes for following the MMODen Twitch.tv channel at www.twitch.tv/mmoden/. To earn those prizes gamers follow MMODen and also participate in the chat as often as possible. Now each time a game earns an entry into the weekly giveaway drawing, MMODen will also place $.25 into the Chat for Charity fund.
The first week gamers have already earned the fund $128.25!!!
So, many of you may be asking, "how can I help?"
Easy! Follow these simple steps:
1) Follow MMODen on Twitch at http://www.twitch.tv/mmoden/
2) Tune in each day that Limpy Streams and Participate in the live Chat stream
3) Blast this announcement anywhere and everywhere, Twitter, Facebook, Email, you name it! Help us spread the word!
We look forward to showing the video of the kids getting these toys from Santa next month, and appreciate everyone's help in promoting this project for us!
Thank you and Happy Holidays!
Limpy!