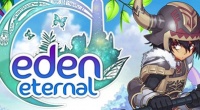 On Sunday June 12th and 6pm PDT, the Closed Beta test for Eden Eternal went dark. During the final day the team at Aeria Games ran a slew of events for players. Really hyping the games features and pushing the limit on the final day of Closed Beta. Now, as one door closes another one OPENS. That means Open Beta is right around the corner. The Eden Eternal Team has come out and stated that it will only take a few days for their team to ramp up and launch the Open Beta Version of the game.
With Open Beta there will be a bunch of new features and upgrades to the overall game. Directly from the Aeria Games Eden Eternal website:
New Content Patch for Open Beta
OH YEAH! Think you've seen all there is to see about Eden Eternal? Think again my friends, we are hooking you up in Open Beta with WAY more content.
Increased Level Cap: Take on new challenges! We're bumping up the level cap from 40 to 50!
2 New Classes: Coming with the increased level cap players can unlock 2 new classes, Blade Dancer and Shaman!
New Dungeons: Including the Level 41- 48 dungeons for parties of 5!
Monster Invasions: In zones above 20 monsters will attack nearby towns!

And Much More: Stay tuned for more details!

We just need a few days to prepare for Open Beta, but we promise the wait won't be long!
You can read all the details http://edeneternal.aeriagames.com/
Look for MMODen's review and Inside the Den HD Video Review in the near future.