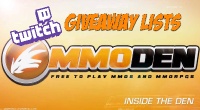 Each month we are giving away over $500 in prizes to viewers who support the MMODen twitch.tv channel. You can support the MMODen twitch live stream in a number of ways, and we even give away an entry into this monthly giveaway each and every day that we stream. Getting entered into the giveaway is simple, and can be done with a small donation or through registrations of three free to play games on www.mmoden.com/free-mmorpgs/. The full details of the giveaway can be found on the twitch TV channel here at www.twitch.tv/mmoden.
This month the grand prize chosen by the winner was $200 in Riot Points and $200 in Dragons Prophet Diamonds. 9 other lucky winners will win MMODen tshirts. So congrats to all our winners and best of luck to everyone in the August Monthly Giveaway!
Don't forget to subscribe to our YouTube channel!
The July Monthly Winners Are:

1) Neoarex
2) cowtiiper5
3) Kajothekiller
4) Xypherz
5) ellohime
6) ncguy56
7) Talraset
8) Singe
9) Zippton
10) Vargg1983

The rest of each list in order below (Those of you below did not win this week, but for those of you wondering what place you came in this list is in order):
Xarnathium
Tripplex101
Rob_allow_iv
Nucky23
Franchiize
Beaveren
Mineshaft87
Icetundra6
Bubbalewis
Enemyfood
gwydo
oli2013
Sysonic5
Curtis_twitch
Khaleesiiii
Starburstz
Zkarel
Zexonair
remzilla11
Kaelion
Matthewots
Packiej
Darkstaruk
Lolkila
Theredboss2
LegacyWarfare
Sss98
Godiest
Teknoshaman
lawplaysvideogames
Xildor
Maverick5275
Simplyqt
Bollegah420
welshman02
Bigtoys4bigboys
johnbrosd
Wrex111
Xzenoph
Fasdar
Midnightmeteor
Vwarbornv
Bnetatlas
Kingxsorrow
Bananenbauer
Drafintolra
Acidskass
Blackzexa
Gobbler142
Unnamed0123
Lolking34
From_hell
Kakoona
Tehllamaz
Fadezzs
Lucienfish
G0g0g
Uwannagethigh
l0lskater91
Evileyez
Duckforceone
Dageth
Joontte
Graham247
Elarinya
Haaxxx
Xinzhao26
Purewelshgaming
Gnomehj
Mywhitenobody
Mitzu182
Mars_Caturix
Pelianna
Duuuuuy
Pienopakis
Magicangel123
gtr12257
Flipout007
Tronkeldonk
Smitestealer
Phatality81
Cjfishing
SamuraiSnoopy
Exophus
Graytower
Acdcc13433
Psymuppet
PekinoHat
trunks044
Kfc_franchies
Cetrex
Ashcraven
StoneyTonyMacgee
Flatlyne21
Sunwind
Xxevilsinsxx
Tclark1981
Arrowey
Rieryn
Kimbley255
Thebournejonny
Closhie
Quanjose