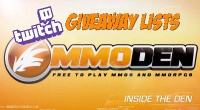 Each month we are giving away over $500 in prizes to viewers who support the MMODen twitch.tv channel. You can support the MMODen twitch live stream in a number of ways, and we even give away an entry into this monthly giveaway each and every day that we stream. Getting entered into the giveaway is simple, and can be done with a small donation or through registrations of three free to play games on www.mmoden.com/free-mmorpgs/. The full details of the giveaway can be found on the twitch TV channel here at www.twitch.tv/mmoden.
In November all Donations to Paypal and Subscriber Money will be donated to the Saint Bernard Rescue Sunny Saints in our Fallen Saints Name name.
Don't forget to subscribe to our YouTube channel!
The October Monthly Winners Are:

1 : Domzors – $400Grand Prize Winner
2 : xxmisfitzxx – $10 Steam Credit Winner
3 : thepickleking – $10 Steam Credit Winner
4 : derkopfsammler – $10 Steam Credit Winner
5 : izzodizzo – $10 Steam Credit Winner
6 : kashorne – $10 Steam Credit Winner
7 : naivalit – $10 Steam Credit Winner
8 : bneatlas – $10 Steam Credit Winner
9 : trineax – $10 Steam Credit Winner
10 : railzar – $10 Steam Credit Winner

The rest of each list in order below (Those of you below did not win this week, but for those of you wondering what place you came in this list is in order):
11 : Ashkroft

12 : G1NS3NG

13 : Sarafyna2010

14 : Mortarbound

15 : Bullseyeshot2

16 : Carbenbased

17 : ashcraven

18 : thisphoenixfire

19 : vcthezombie

20 : mrarmedbull

21 : elfidruid

22 : bananenbauer

23 : Karmorgor7

24 : fasdar

25 : Hollow_Yoshii

26 : Mars_caturix

27 : Lucienfish

28 : papatayin

29 : liquid_lightning

30 : lawplaysvideogames

31 : tclark

32 : kitsadio

33 : craniosni

34 : danith

35 : pawelpio

36 : skelmi90

37 : gnomehj

38 : nykontv

39 : fille948

40 : singe971

41 : raxen21

42 : Franchiize

43 : kadiman

44 : stoneytonymcgee

45 : F3rv

46 : drifter316

47 : gyllnyllet

48 : maleix

49 : Unnamed0123

50 : Panger95

51 : balerion83

52 : rob_alloy_iv

53 : cruisette

54 : gifas

55 : pandoraheals

56 : Pethunter

57 : andulol

58 : duckforceone

59 : cohhcarnage

60 : ardanis

61 : pekinohat

62 : spithaz

63 : liakeze001

64 : N1njau

65 : sunwindbg

66 : general97

67 : gummiclown

68 : shioazure

69 : goggelz

70 : envygames

71 : tronkeldonk

72 : alex2398

73 : popacooldown

74 : Ddarkangel

75 : almightyatlas

76 : Gunfuu

77 : psymuppet

78 : kyray

79 : snave1208

80 : bhawks24

81 : gamer_boii

82 : mytholxgy

83 : sonicxbl4stx

84 : from_hell

85 : ichig000

86 : zoresv

87 : ikreapz

88 : katkall

89 : alchez

90 : xyph3rz

91 : tachinaori

92 : oerknal

93 : sss98

94 : oli2013

95 : troogerz11

96 : mrwreckless

97 : synol

98 : drutaks

99 : godiest

100 : feijoax

101 : vendortrash

102 : rayzer_82

103 : rlehman8

104 : ellohime

105 : meatpants1138

106 : anubiskhan

107 : rieryn

108 : schmox

109 : rafe87

110 : sineux

111 : drafintolra

112 : closhie

113 : deadgravy

114 : nexustavern

115 : jannikleth

116 : teknoshaman

117 : bonbonelan

118 : cetrex2

119 : talraset

120 : xxevilsinsxx

121 : tewlenged

122 : gwydo

123 : evomies

124 : elarinya

125 : mcdonawa

126 : lilhalien

127 : zafice

128 : yoda1fan

129 : xarnathium

130 : bombaklats

131 : sarkasda

132 : drifuze

133 : whoopassfajitas

134 : trunks044

135 : zhyna

136 : Flatlyne2001