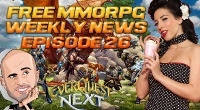 Welcome to the Free MMORPG Weekly News Episode, covering news for the week ending August 2nd 2013. Once again the Lovely Jelena Jensen is hosting the show with yours truly. So everyone make sure to give her a nice comment in the YouTube Comments. Now I just have to keep those foot rubs coming so she keeps coming back to host the news for us.
This weeks news covers the latest from games such as Elsword, Spirit Tales, Dragon's Prophet, EverQuest Next, and much more. You can read the full news on each of the games in this video by heading over to the MMODen News section. Also, see full videos and trailers for all these titles on the MMODen YouTube Channel. Don't forget to also come check out my live streaming at Twitch TV as well.
Don't forget to subscribe to our YouTube channel!