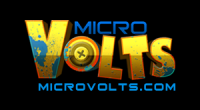 After a solid run through their Open Beta Phase, RockHippo announced that they have taken their 3rd Person Free to Play Shooter, MicroVolts to full and official release. Although the Open Beta was just that, Open Beta and open to all who wished to play the game. The Official Release of MicroVolts comes with a slew of added features and in game events.
It's the Official Release of MicroVolts! We are very excited to share with our players, all the brand new features and items that we've added to the MicroWorld! So what's new around here???
Clans: Hardcore competition begins now! Start up your own clan and select your best members to join special teams. These teams will form the core of each clan, with reserve members fighting for these crucial spots. Feed competition by comparing your clan to others!
New Weapons: Equip yourself with new weapons like the Steel Hammer melee weapon, the DareDev Gatling Gun and the Mimic Rocket Launcher! Advanced versions for each weapon type are also available for heightened toy-killing!
New Map: Roam around our new map, The Studio! This is a huge map with an incredible amount of levels and hiding spots. Zombie mode enthusiasts will especially enjoy this!
New Items: We've added a ton of new parts, items and accessories! Check out the Naomi's new ''Purple Chapeau'' and Pandora's ''Modern Pirate'' outfit!
New Character Set: Be on the lookout for Colonel Crac! He's officially part of our MicroWorld and he's sure to tame those unruly MicroVolters! If you already have C.H.I.P., buy Colonel Crac in-game and you'll get a 20K MP refund! If you don't already have C.H.I.P., buy the Colonel in our Web Mall and C.H.I.P. will automatically unlock.
Rock Tokens: This currency can be purchased from our Web Shop giving you access to exclusive customization options to spruce up your character!
You can read our full review here on MMODen.com or see our full Inside the Den Feature on MicroVolts below.