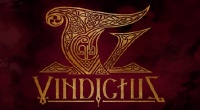 The latest class for Vindictus has arrived. Log in and you will know this, as you can see hundreds of Karok's running around the game world.
Karok is a massive beast of a man and can take a ton of damage and deal out even more. Let's take a look at some of his skills right from the Nexon update website:
Power Grab: You can grab monsters that other characters can't, such as Vampires, Spiders, and Hemdrills.
Grapple Mastery: You thought you were tough before? This skill just increased the attack factor of your grappling skills!
Boss Bash: While fighting a Boss, you can grab it while it's knocked down to deal additional damage.
Clash: Test your strength by pushing back on a Boss monster and turning their own power against them!
Read about all of Karok's skills http://vindictus.nexon.net/
In addition to the Karok being added in the latest update, a few other features are now live:
Token system's permanent removal
Leader Board
Party Ranking System
Town Party Creation System
Bonus Experience and Gold for Hard and Hero Modes
Additional Character Slots for a New Character
and MORE!
You can read the full update notes and details http://vindictus.nexon.net/