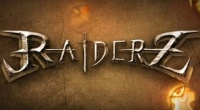 Raiderz is a free to play 3D MMORPG from Perfect World Entertainment that just entered it's Alpha testing phase. After sitting down at GDC 2012 with a representative from Perfect World Entertainment, they gave me the ok to do a First Impression video and write up for their latest monster mashing free to play MMORPG, Raiderz. So we spent about 30 minutes going through and creating our first character, a berzerker, and running around the early stages of the game to check out the level of polish that exists, very high, the tutorial, very seamless, and see how the games flow was coming along at this early stage of testing.
To say that we were highly impressed would be an understatement. The games developers did make a few odd choices when it came to the keybindings of a few screens, such as skills and character sheet, but that only took a minute or two to get use to these newly found homes for bringing up these menus.
Overall the game looks gorgeous, the combat and skills are fun to use, the open world aspect is great to see, and the early number of quests that show off the games fighting system as well as crafting were real pluses. Look for us to do a second preview as we get a bit deeper into the game and can show off some other features. For now, check out the video below and see our first impressions first hand.