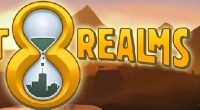 8Realm is a free to play browser based strategy MMO from Jagex. One thing that a player will quickly notice is that the games graphical style is far different from what is considered the norm with browser based strategy games. Very few games employ a more cartoony and comical style that is showcased in 8Realms. Not to say that games do not exist in this style and in this genre, but they are few and far between. With this style players will quickly come to realize that the games overall game play is much easier and much more relaxed in comparison to many other games in the genre that can be very cut throat and competitive. Will this end up being a boon or a bane for 8Realms? Keep reading to find out.
Getting Started
Once logged into the game you will start and name your first village. Quickly moving through a guided bit of gameplay that serves as the games tutorial. This guided portion of the game is very well done and does an excellent job of teaching a player the basics. One things that will catch your eye quickly though is how very similar the building and recruiting portion of the game is to so many other games in the browser based strategy genre. This is not a horrible thing, but it is something to be aware of, as the deluge of browser based strategy games that have popped up in the past several years seems to be immense.
Even with that said, 8Realms does have a bit of charm and allure to it that can certainly make a player feel like they are playing something different.
Gameplay
Once you get into the nuts and bolts of the game and understand the basics of gathering materials, upgrading your research and building to allow new research and buildings to be accessed. You will want to make sure that you are raiding on a regular basis. The raiding feature is what will allow a player to really catapult ahead of those other players near you. If you are able to create a few small armies that can continuously attack and plunder the barbarians around you, you will gain the advantage of those extra resources to keep replenishing and growing your armies and also keep your village continually growing.
Growth is always key in strategy MMOs, and it is no different with 8Realms. The more you grow, the faster you can get to the more powerful units, and the more defenses and, more importantly, the faster you will get to a larger and more powerful army to plunder even more powerful foes. Something that can reap far larger rewards.
Moving through the ages and attaining new research is one thing that sets 8Realms apart from many other games like it. Having the ability to research and chose your research path is not only fun, but can be very rewarding. In addition to the research factor, the culture that is gained by providing your citizens with certain buildings and keeping them happy can in turn give access to certain world wonders that can add major benefits to your village, your troops, and all aspects of the game.
Graphics, Sounds and UI
As stated the graphical style is cartoony and comical. Something that adds a little extra entertainment value to the game, but truth be told this doesn't last forever as you will see the guides and pop ups less and less as you progress and some of the comic relief to the game quickly fades. It is still fun to see your building grow as you upgrade them and see the new units, and not being seeing these in what has become a standard graphical style for strategic MMOs. So kudos to 8Realms for thinking outside the box with this aspect.
Sounds? What Sounds? This was a severe disappointment. Maybe the sounds or the volume or the mute button are hidden very well somewhere, as we could not find anywhere to turn music or sound effects on. For our review video we ended up using a bit of music we found appropriate as even just a little background music that is played very light can make the game that much more interesting. Then give me the chance to turn it off. In today's gaming climate, these are the little things that need to be there and really make a difference.
As for the User Interface. Simple, straightforward, and easy to use and understand. The game also does a very good job of easing the player in slowly. Giving them bits and pieces over time so they can fully understand what they are getting into. One thing that is always appreciated, especially when a game breaks the mold. While 8Realms doesn't really break the mold, it is still nice to see that patience used with players.
The Final Word
All in all 8Realms has a lot to be proud of, and the games entertainment factor is very high. While it doesn't exactly set any standards. There are plenty of reasons for a player who is looking for a new strategy game to give this one a try. It is odd that a game like this would not have a PvP element, but there are plenty of gamers out there who enjoy a nice builder where they are not worried about their fellow players coming to destroy all their hard work. Whether the lack of PvP is something that remains is yet to be seen, as there are rumors that a PvP element will be added to the game in the future.