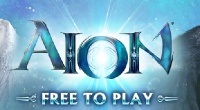 Aion, the fantasy free to play MMORPG from NCSoft, only recently went free to play in both Europe and North America. It is always nice to see titles that were once pay to play switch over to the free to play model. It is even more encouraging when logging into a game like this and seeing the newbie area filled with new players. Aion was developed and launched back in late 2008. The game actually enjoyed a solid player base for quite some time. With the recent explosion of free to play gaming though, Aion watched its player base dwindle. So last 2011 the decision was made to switch the game over to the free to play model. Something that NCSoft has been doing with many of their titles so this really came as no surprise to anyone.
Getting Started
As with any game of the genre getting started is very simple. Go to the website, register for an account (or add the game to your existing NCSoft account), and download. With the game having been a premier title for so long, expect the download to take a little bit, as the game files are of decent size. Once installed though the game loads and updates very fluid. Once you are logged in and choose a server you will begin the process of creating your first character.
First though you will need to choose between the Asmodians or the Elyos. Once you create a character of one faction you will not be able to create a character on the same server from the opposing faction, no spies allowed! From there you will be given the simple option of selecting on of four classes, the warrior, scout, mage, or priest. Both factions have the same four character classes, and there are no race choices, only class and gender. This we found odd as the games character creation options are quite extensive and very detailed. Once a player select their class and gender they are given a wide range of options to customize every last detail on their character. For those that are not looking for as much detail, the random button will be your best friend to make sure that you are not running around with a character that is a clone of another.
Once through the character creation, the player will be able to get quickly into the action after selecting the created character and hitting start. Well after entering a security pin that is. A quick cut scene and you will be dropped into the newbie area and your adventure begins from there. Keep in mind that free players are only allotted two character slots, but for those players who have paid to upgrade their account or were previous subscribers to the game, you will have access to the premium options that will allow for 8 character slots and also far less restrictive game play. With that said, all areas of the game are open to free players, there are no DLCs.
Gameplay
Being dropped into the game world starts very much like many other games in the genre. You are dropped pretty much directly in front of the first quest giver and directed around the newbie area to talk to different people, kill helpless animals, and collect a certain number of items for NPC X. While learning the basics can be similar to many other games, there is a slight charm to what goes on in Aion. Maybe it is the glow that exists on the game as a whole or maybe it is just the way quests and NPCs present themselves. There is no denying that it is there though.
Leveling up happens rather quickly. With level ups comes new skills. Purchasing skill books will open up many new skills to players. Once a player learns a few new skills they will shortly have access to their first chain skills. Chain skills will allow a player to use two or more skills back to back and create a more powerful effect. Very useful for taking monsters down much more quickly.
Once a player reaches level 10 they will be able to ascend, and once the player ascends they will choose a new direction for their character class. Each class has two potential ascension classes with each one opening up a whole new branch of skills and gameplay options.
Aion does an excellent of creating mini-milestones for players to reach and attain certain gameplay aspects. Starting with the first Chain Skill, then moving to the Ascension, and so on. These continue till level 25 when players will be able to fly for short periods of time. Learning how flight works and mastering it as a skill is important as PvP in the Abyss requires a player to utilize flight to their advantage if they want to be a successful PvPer.
Graphics, Sounds and UI
When ever a game migrates from pay to play to free to play one of the greatest advantages is always the effort and money that was put into development and therefore into the games graphics and sounds. Aion is no different. From the moment you log in you can see and hear the quality. That quality extends the moment you start working your way through the character creation. With cut scenes not only when you start your character, but many cut scenes exist when you are just picking up a random quest here or there. All of these small details that are done with excellent attention, add up and make the overall experience one to enjoy.
All of the above comes with great sounds as well, not only the sound effects, but also the music and the voice acting during cut scenes and certain quests. The music score deserves a bit more kudos though as this is one that I can see players easily listening to outside the game and enjoying in a mix with other video game scores that they create play lists out of.
User Interface is such an under rated aspect of any game. When you have a bad UI you immediately know it. Some times you have to play many many games to truly see what a bad UI looks like. Any time you have had that experience it creates a joy that rises up inside you any time you see a UI that is well done. Aion's UI isn't the best I have seen or even in the top 10, but the UI is certain well done and works well to keep itself out of the way.
The Final Word
Said it before, a couple times, and I will say it again. When pay to play games migrate to free to play the winners are always the players. Aion's migration to free to play has been great not only for the game but also for the players and the growing player base. Players who were once pay to play players are now seeing more players joining the game again giving them many more allies and opponents alike. Aion is a treat to the senses as well and really pulls a player in with several game mechanics that are either unique to the game or done equally as well or better than other games. If you have been wondering if you should try Aion, you really have zero excuses any more.