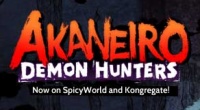 Akaneiro Demon Hunters, is a free browser based action MMORPG from the small indie developer Spicy Horse Games. At first glance many will think, "oh another browser game," but truth be told that just isn't the case any longer. Broswer games have been turned upside down with emerging technology over the years, and Akaneiro is here to show off much of what the browser is really capable of in today's gaming environment.
First off the story of Akaneiro is very different, this isn't just a fairy tale turned on its head. This is a fairy tale, in this case Little Red Riding Hood, turned on its head and infused with Japanese folk lore and myth. Character selection offers three choices each with their own focused abilities and skill set. One thing that is nice to see though is that characters are not limited to just the skills of their discipline. You will be able to choose skills from any discipline, just the ones in your own discipline will cost less to learn and improve.
As soon as you get through the tutorial and you are ready to start playing the story missions, you will find that there is a map of instances that you will be able to select missions from. To start you will be limited to only the first map as you will need to level up to open further maps. One issue I did have with the game is that not all maps are available for free. There is a one time purchase fee to open up all maps, now this is nominal, but I I am big proponent of games opening up all their content and focusing on convenience and cosmetic items to generate their revenues. The good news is that the early maps are all available for play, so by the time a player would need to purchase any maps pack they will know if this is the game for them, and by then would happily support the developers with a one time purchase such as this.
Once you head off on your missions you will find that the game has an art style all its own, this works very well for the game, and is refreshing to see something unique when it comes to art. I found the combat controls to be simple to use and the animations were very fluid providing an excellent experience. Items drop with a high level of regularity and you will find yourself quickly stocking up on items for your next level gain. Items also change the look of your character and play a vital part in your characters customization, with multiple options available at each level.
Want to see if Akaneiro Demon Hunters is for you? Watch my full video review and see if this game should be added to your bookmarks…