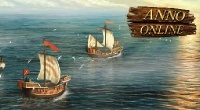 The Anno games have won many awards during their long run, and now Ubisoft looks to take that success over to the free browser gaming space with the first online title in the series Anno Online.
Player will start out with a small island of their own and be able to grow from humble beginnings to a massive empire of trade and culture. Managing resources and making sure that your citizens have everything they need will be at the heart of a players adventure.
Check out my First Look Gameplay video and you can see many of the details that go into building a budding empire.
Don't forget to subscribe to our YouTube channel!