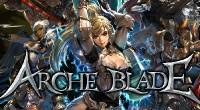 ArcheBlade is attempting to bring third person fighting together with MOBA style gameplay. The union is meant to make for a unique experience that can be enjoyed by the masses. With several game modes that include FFA, Team Deathmatch, Point Control, and more. These multiple modes gives players a nice range of variety of gameplay options to keep the challenge level high.
When it comes to characters, the game doesn't have the massive number of characters that some MOBA games may have, but the ones it does have are interesting and fun as hell to play. The difficulty with these characters currently are that some have some balance issues, and could use a once over. For the most part though, almost every match I played was balanced character wise, with player skill creating the separation between skilled plaers and newbs.
Check out my full video gameplay review and see the games cool comic book style, and high action combat.