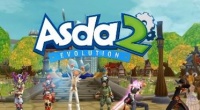 When sequels are announced, there is one thing that fans and critics anxiously await- something greater than the prequel! The sad truth is that in free MMO world, most sequels fail to live up to this expectation. Yet, Asda 2 is an exception. Contrary to what most people would assume, Asda 2 is not an expansion of the original Asda Story, it carries on the same story though. It is a completely new game with visible changes and upgrades.\
Asda 2 is brought to us by the same developers and publishers who brought us Asda Story. It also has the same anime-inspired bright and lively fantasy world. Visual changes and upgrades are apparent in the very first look. Some new features and systems are also included, most of which are accessible after reaching a certain level. Since this game is a completely new game rather than an expansion, the players moving from Asda story will have to start over from the first level.
Gameplay
Asda 2 gameplay is very much similar to any MMORPG, specially the free-to-pay ones. However, there is no doubt in the fact that typical grinding and questing always manage to captivate players for never-ending hours. The game starts with character customization and then you will continue questing and combating around the game world. This sequel has a few interesting features to offer such as multiple PvP modes and soul mate system. So over all the gameplay promises to be more existing than Asda. Not to mention, the much enhanced graphics alleviate the addiction level.
Character Customization
Initially, character customization is limited but fun in this game. Although there are many classes in the game, you don't have much choice in the beginning. You can only choose between male and female and customize their appearance with hairstyles, hair colors and clothing. Then you will have to choose a zodiac sign for that character. You can also choose expressions for your character and get going. One interesting feature is that you can maintain a separate inventory for clothes and accessories.
Classes
Choice of classes comes later in the game which is a good thing. It breaks a player free from a consistent gameplay. At level ten, players are given a choice to change their class. By that time, most players have become aware of their playing style and are able to choose much wisely. Each class has its own specialized weapons. Yet, it is quite disappointing to see that the game lack any unique class. You will have to choose between the same old warrior, mage and archer, even though each will have their own sub-class distinction. Next advancement comes later at level 30 where a player is required to talk to a job trainer.
Questing
Questing is ultimately the heart and soul of this MMORPG. There are a lot of quests available and questing fans will really enjoy every minute they would spend on Asda 2. It helps in quick level ups on the game. However, these quests require you to do the typical MMORPG jobs such as killing this much number of that monster and bringing that item from that place. There is a very interesting feature called auto-walk in this game. This will allow your character walk towards to monster you are required to kill, and also back to the NPC you have to report back to.
Outfitting your Avatar
As we mentioned, the game includes some very interesting and exciting features and systems. Avatar system is one of them. It enables the player to customize their characters with unlimited options. Remember all the Barbie dress up games out there! This kind of system offers a different kind of fun and excitement al together. Moreover, it encourages individuality so that the characters won't look like each other's clone.
Soul Guardian and Soul Mate
These are other impressive systems of Asda 2. As far as soul guardian is concerned, every character has one of its own. It requires a number of special attacks to be performed. Once you have performed enough attacks, these guardians will hover around your head and assist you in combats.
The soul mate is system is a completely different but equally interesting system in the game. Asda players will easily recognize it as it is borrowed from the prequel. Soul mates offer a lot of benefit to each other including quick level ups and powerful attacks. There is an asset of special skills which can only be used by soul mates. In Asda 2, this system is further enhanced by a marriage system which offers even better perks.
PvP
Although we recommend quests for quick level ups, grinding is a factor you can not leave out. The PvP mode in this game is good enough. You can either choose a one-on-one PvP or fight in a faction. Pvp fight is once again pretty typical. One thing you will notice is that your character has more stamina than in usual MMOs and they won't get killed very easily.
Faction wars will require you to reach a certain level first. You can join a faction by asking knight Clasis. As Asad Story players already know that there are two factions; light and dark, you can choose to be in either of them. The sequel offers two types of faction wars. Capture the flag is the same as it was in the prequel while Death match is clearly a new addition here.
Community
Asda 2 has one of the most active and friendly community around. It is easy to make friends and that makes you wanna come back again an again. People are always there to help new players, assist them in quests and answer their questions.
Graphics and Sounds
Graphics quality is very much improved in this sequel. They are smoother, brighter and livelier. Anime-styled characters are very cute and make you wanna keep playing and customizing them. The developers have definitely thrown in a lot of efforts and it is also visible in the environment graphics. The animation is smoother than in most FTP MMOs. One very interesting part is that even the enemies are so cute that you will have to think twice before killing them.
The music is nice and soft, complementing the happy and lively appeal of the game. However, it is pretty hard to tell any difference between the Asda's and Asda 2's soundtrack.
Pros and Cons
Pros:
– Enhanced graphics is one of the major reasons why players love this MMO.
– Some new systems and features such as soul mate system are extremely exciting and interesting.
– Helpful and active community.
Cons:
– Might become boring and monotonous for veteran players.
– The Fantasy environment has nothing new or exciting to offer.
– PvP mode combat becomes quite boring.
The Final Word
Overall, Asda 2 is an outclass MMORPG for a Free-To-play. The graphics are surely one of the best we have seen, anime theme makes it bubblier rather than dark. However, if you are already and Asda Story player, you might mind starting up from the scratch again. Yet, a number of new features and systems make it a completely new experience overall. So, if you were lookingfor somedecent quality 3D FTP, Asda 2 would be our very first recommendation.