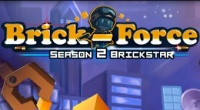 When Brick Force was first announced there was a loud uproar from the Minecraft community, and then the company behind Brick Force embraced the Minecraft generation and asked them to come along for the ride. One thing that player love is getting involved in the creation of a game. So when all of the above happened Brick Force really won over a large number of supporters.
The game not only provides a giant sandbox for players to play in, create maps, and shoot down your friends. The games does so with quite a bit of flare. The number of building blocks that are available and the creation options really are only limited by the mind of the creator, and in this case, that means you the player. A small search through some of the maps that have been already created will yield some amazing results, and some staggering play time on some of the maps.
Want to see what I am talking about, take a look at my full video gameplay review below and see exactly what Brick Force has to offer.