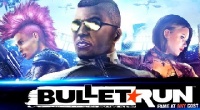 Bullet Run, a free MMOFPS from Sony Online Entertainment, drops players into a true arena type shooter. Complete with crowds that players can earn the favor of through their efforts in one of several arena maps. The games graphical engine is good, but not great. The maps are well thought out and well designed to reward players who are able to keep moving and think strategically. We hope that over time we will see more maps and modes playable. Also, these matches could certainly be a bit shorter. While players are still rewarded for their efforts any time they leave. 20 minutes is a bit on the long side for these types of arena shooter games.
The game is already updating regularly so this should be a precursor to players seeing those new maps and modes with future updates. Free players may find a bit of a discouragement with the games cash shop and available weapons and gear. Even though all gear is available for a credit charge, some of the prices are quite high and it can take 100s of matches to earn the credits needed to purchase many weapons or upgrades.
Taking the above into account there is a quality shooter there at the bones of it all. The character customization is limited, but to change outfits is rather inexpensive from a credit standpoint. Small detail like cameras and the color commentary really add to the atmosphere and certain raise the overall gaming experience a player will get from Bullet Run.