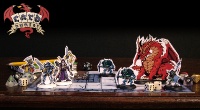 If you are over 30 and remember the days sitting around with your friends and playing RPG's with a flat board and small miniatures Card Hunter is really going to take you back. Now this isn't to say that Card Hunter won't hold a bit of nostalgia for any gamer that remembers old school RPGs, it is just that for those of us who gamed in this manner pre 1990, this was pretty much all we had, and we loved it! A night or two a week, maybe even on the weekends getting together with your friends, a pizza, some chips, and it was GAME ON!
Card Hunter really captures that feel and gives the gamer the chance to dive into both the campaign (PvE) and the Multiplayer (PvP) with relative ease. Currently the game is lacking multiplayer on the PvE side of things, but the door is open for that feature to be added at a later time.
The basics of the PvE side of the game are simple. Gather your team of adventures (Priest, Mage, and Warrior) then head off in search of gold and riches! You will start as lowly level 1 adventures and work your way through various dungeons. Along the way you will gather experience that will level your character and with each level brings the ability for your character to equip new items. As you equip new items new cards will become available to that character to use on the battle field.
On the PvP side of things the combat is the same except you start out with a band of hired mercenaries that are decently geared and you head into ranked matches against other players. Each day you will have the chance to progress through the 20 possible loot chests and earn powerful gear for your PvE or PvP characters.
Watch my first look video and see the above in action and let Card Hunter take you back to the gaming days of ole.
Don't forget to subscribe to our YouTube channel!