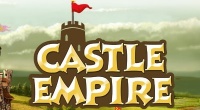 When it comes to strategy games, there are plenty of them on the market, both browser based and download. When it comes to free to play versions of these games, there are even more, many from companies that most gamers have never heard of. Ubisoft is a name that most gamers have an easy time recognizing and know well, not only from their strategy games over the years, but also from the many popular console games like Assassin's Creed, Heroes of Might and Magic, or the Ghost Recon series. When it comes to the free MMO genre though they are relative newcomers. Will their background help them or will their lack of experience in the free MMO genre be a setback that puts Castle Empire a bit behind their competitors? Keep reading and find out.
Getting Started
Being a web based strategy game, Castle Empire makes it very simple and easy to get started. Register for an account, then you quickly choose from one of many avatars that will represent your character and a name. Most strategy games do not even go this far, and character creation is not really a major part of any game in the genre, so moving the player quickly through this portion of the game is a good thing.
Once you have chosen your name and avatar, you will be dropped onto an island and begin the tutorial. The tutorial will guide you through the process of creating many of the necessary buildings that will make up your village. You will learn not only about the building process, but also the management of resources, and how to make sure that your resource buildings have complementary buildings that replenish those resources.
Additionally, the game teaches you about using your specialists to discover mining resources, other plots of land that you can take over, and valuable treasure. Sending these specialists out takes time though, and the more valuable the resources that they are after the longer it takes for them to complete their search.
The final units you will learn about in the tutorial will be your combat units, these will accompany a general into battle and help you to conquer new regions of your island, and also gain experience that will help you to level up once you are out of the tutorial and no longer gaining experience from quests.
Build Trade Upgrade Fight
The nature of the game is to build up your city, gather resources, build up your army and take over your entire island. This will be no small feat as the bandits who inhabit your island get progressively more difficult. The key to your dominance will be to continue building, gathering resources, trading for resources that you need, upgrading your buildings, and then recruiting the units you need to take down those vile bandits one bandit village at a time.
Combat is very generic, and uses a simple system that displays the units on each side which trade attacks and the last man standing wins. Combat can also reap many rewards such as resources or valuable gold. Just make sure you weigh out any battle before you jump into it, losing your troops will not only mean lost resources, but also lost time as it will take time to regather the resources, but also time to retrain those troops.
Luckily with all the time involved in all the above tasks, the community is fairly large and the chat for the game is very active. Any help that is needed is usually answered quickly. With that said Chat can also get a bit interesting to say the least, but what else is to be expected from bored gamers on the internet?
Where's the PvP?
Sadly, at this time there is no PVP in the game. While the promise of PvP in the future is there from the developer, this could be considered a major flaw or missing component to the game. As many gamers who look to play strategy based web games, are looking for the thrill of PvP in their game. Let's hope that this feature is not too far off in the future, as a PvP option could really take the game to the next level.
Sensory Appeal
Graphically the game is very nice to look at, being able to zoom in and watch your workers mulling around and completing their tasks, or zoom out and see your island from a 10000 foot view is nice. The detail in the building and creatures of the world is excellent. Seeing your building change their look every time you upgrade them is another small feature, but it adds so very much to the player experience. The characters and bandits have a level of cartoon humor to them that only adds to the overall fun.
On the audio side of things, if you enjoy the subtle sounds of birds chirping and nature doing what it does, then you will enjoy just having the game playing in the background and letting those sounds penetrate your ears all day long.
The Final Word
Overall Castle Empire is a solid offering into the web browser based MMO genre, with the developer constantly updating the game and adding new features regularly, gives the game a lot of additional promise for the future. The lack of PvP is a little disheartening, but there is so much to do in the game now as is that it can be overlooked. The experience rate can be deceiving and can turn some players off, as you progress very quickly in the beginning only to have the rug pulled out from under you once you complete the tutorial and find the experience rate grind to a serious halt. This is another place where the developer is making changes and they look to be very welcome changes to the playerbase. So if you are looking for a classic builder that has is very up to date graphically, has an excellent building system with player to player trade, simple combat, and moderately challenging. Then we highly suggest you give Castle Empire a shot.