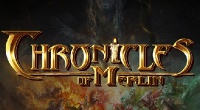 Chronicles of Merlin is a free to play MMO that has quite a bit of depth and many strategic components that will keep players who love these little nuances playing for hours on end. This free browser based MMO has decided to take the myths and lore behind many ancient tales and combine these with those of historic legend to create a background that gives players a lot to think about as they are progressing through the games many levels and stages. Combining heroes with the proper gear, complimentary heroes, and placing them into a formation that will give your group of heroes the most strategic advantage is at the heart of the game, but with so much more to do and achieve, could Chronicles of Merlin be the strategy browser game that you are looking for? We take a look at the deeper workings of the game and give you a chance to decide for yourself.
Getting Started
When you first create your account you are going to have some quick choices to make. The first being your starting hero. While this choice is not detrimental to your end game, as you won't actually hold on to him for long, it can be very valuable to do your research as these early heros can turn the tide of battle in your early campaign battles. Each will have their own special abilities and defensive powers. So choose wisely.
After that you will quickly find yourself in battle to take over a castle. Fighting is fairly basic, especially early on, and the game does an excellent job of ramping you up and walking your through all of the early stages with what is a smart and entertaining tutorial. Each stage of the tutorial giving you a little more information and doing so in steps so you can progress and learn a bit on your own with a lot of hands on experience. Not that you won't make a mistake or two, but in these early levels, the mistakes are easy to overcome, and part of the learning process.
Battling Through the Campaigns
Early on you will only have one type of battle that you can compete in, and that will be the campaign. Progressing through the campaign will yield many rewards. All battles will reward the player with Battle Points, one of the many forms of currency in the game, but several battles in your first campaign will also reward you with gear. Then there are the very few that will give the player the opportunity to earn additional heroes to recruit and train.
As you progress you will find yourself at the end of each campaign with the unique opportunity to battle in a team legion fight with other players from your server and have a chance to earn more powerful equipment. These legion battles will also reward much larger chunks of Battle Points for you to spend. Each of these battles have a limited number of available battles. So be prepared to spend several days competing with others for space on the battlefield to earn the items you are looking to outfit your heroes with.
Making the Move and World Battles
Once you have progressed to level 11 and you have upgraded your castle and all your buildings, you will be faced with another choice. This time you are choosing where you will place your loyalty, King Arthur, Charlemagne, or Caesar. Each of these represents a faction of the game and are at war with each other. Your choice will also determine the specialty heroes that you will be able to earn through your PVP battles. Each PVP battle will yield Prestige which will allow you to earn new ranks in your factions army, as well as new and more powerful heroes at certain Prestige point levels.
Once you feel you and your army are ready to start to attack players from the other factions, you will enter the world map and then enter the region of your choosing. From there you should pick your targets carefully, as they can range from weak to the very powerful. Keep in mind that the more powerful the enemy the better the reward for their defeat. These battles can only take place in the Spring, Summer and Autumn. During the Winter all PVP is not allowed. During the winter is a great time to replenish your reserves and also stock up on Battle Points.
Gearing Up
Getting your heroes geared up is one of the most important pieces of the game. Spending the time to get the best piece of armor or the best weapon for your hero is worth the time it take as these items can really turn to tide of battle in your favor. Once you have obtained or purchased the gear you are looking for, upgrading that gear is your next step. Making sure to upgrade your gear regularly is also very important. Many times you will enter into batter and your opponent may have matching gear to you, but your upgrade could make all the difference between a win and a loss. So make sure you are taxing your people and using all your silver wisely as it will be your gear upgrading life stream.
Heroes – Enlightening, Rebirthing, and More
Heroes are the cornerstone of the game and making sure that you have the best heroes is even more important than the gear you have them in. There are many guides on the games official forums that can help walk a player through which heroes should be used and which item and weapon combos will give the best results and give you the best chance at defeating your opponents.
Each hero has three statistics and each of these can be upgraded by spending battle points to enlighten your hero. While this process can get frustrating at times, due to the high failure rate, this is one of the few places that your heroes will differ from all the other Sir Kay's, Nero's or Charlemagne's out there. The system is very unique and very well done.
Once your reach level 51 with a hero you will be able to rebirth them. Heros lead groups of units, and all those units attack with the heroes special ability. The more units you have the more health that hero has before he is conquered in battle. Rebirthing allows for heroes to start back at level 1 and level up again and gain more stars or more units to enter battle with, this means more damage and more health. All of these little things can make a big difference in the long run, while they can get a bit daunting from my explanation here, once you are in the game it is all very simple to understand.
Alliances and Wars
Joining an alliance early on can mean many things. Alliances provide buffs for all players of the alliance to their gains from silver mines, farms, and PVP battles. Having access to alliance members for trading through the caravan system, protection from players that may pick on you in PVP attacks, or even just to share information can be extremely valuable on all accounts. Also, each day alliances have the chance to battle in Plantation Wars and attempt to take control of one of the many plantations in the games world. If a player is an active participant in these battles you will earn Alliance contribution as well as Silver.
The Final Word
Chronicles of Merlin provides a nice break from many of the other strategy games on the market. The games backdrop that is a mix of myth and history is well done and intriguing. Graphically the game is simple, yet effective. So if you are looking for a game that provides a little bit of everything PVE and PVP, while having a lot of depth and options, give Chronicles of Merlin a shot. Just like many strategy games, it can take a little bit to get into it, but once the game has it hooks in you, you may never leave!