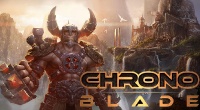 Chronoblade gives gamers who enjoy one platform for all their gaming a lot of hope. I say that because games that are appearing on Facebook lately just seem to be getting better and better and better. Not only games on Facebook, but also games that are appearing to be browser only. These titles really open up the number of gamers who will have access to a broad base.
But let's get back to the game itself. Chronoblade is a side scrolling action title that is 100% free to play. With that said there are still item that are currently only available through premium currency in the cash shop, but those items do not seem to have any major advantages over items that can be found through gameplay.
Gameplay consists of a player working their way through different scenarios that lend themselves to multiple difficulty levels and allow players to challenge themselves almost right from the games start. The games progression also gives the player new skills and attack combos as players level up. Making for a decent amount of customization through progression.
There are currently two playable characters with two more coming soon. If you would like to see more of what Chronoblade has to offer, check out the first look video for more.
Don't forget to subscribe to our YouTube channel!