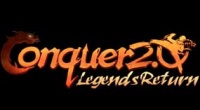 Another PvP focused free to play MMO game but a 2D graphic interactive action game – Conquer Online. It is really unique and very engrossing. Imagine conquering places with the best game features, skills and right weapons. It is simply exciting and never fails to capture the attention of the player. However, there are a few things which could have made it even better, but nonetheless, they can be overlooked.
Lack of Character Customization
Conquer online has no options for players to customize their character in the game. It has been quite disappointing and annoying for most players. You need to identify with the character in the game. Unless players can make it look like what they have in mind, the game can be very boring.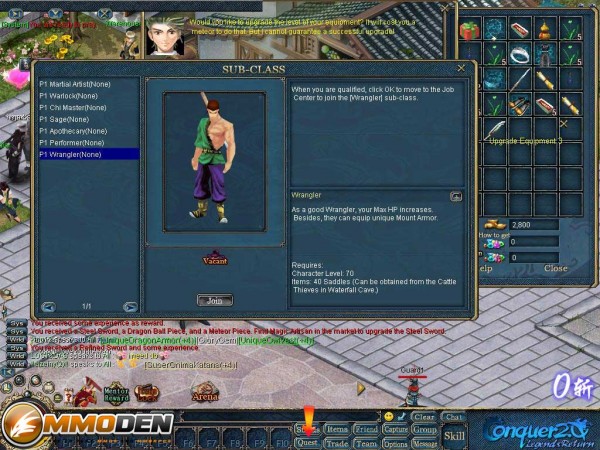 Choose Your Path
The only customization available is the gender and size of the character. That's all! However, for those players who do not care about the size and looks of the character, the number of playable classes is a plus point. Most MMORPGs have only four classes but Conquer Online has five, and many sub-classes for a player to advance to later in the game, but the starting five are:
Ninja: The fastest and hard hitting class. They can handle massive damage in short time and they also have the least hit points. They also have defenses to match other classes.
Archer: These are swift characters and can attack the enemy from far distances. Their main weapon is bow and arrow. Their attacks are really powerful and they are susceptible in melee range. However, the archer can attack multiple targets making them very useful in the game.
Trojan: They have dual weapons which allow them to cause massive damage to the enemy, although they have poor defenses compared to the warriors.
Warrior: These are a lot like the Trojans but can withstand damage and deal with them better.
Taoist: There is need for spell casters to attack your enemy. Taoist can handle this better than any other character. They have low hit points but their magic serves the purpose of battle well enough.
Monk: They are a combination of warriors and Taoists. They have both magic and battle skills.
Once you have chosen the character for your game, you are quickly dropped into the game and off and running.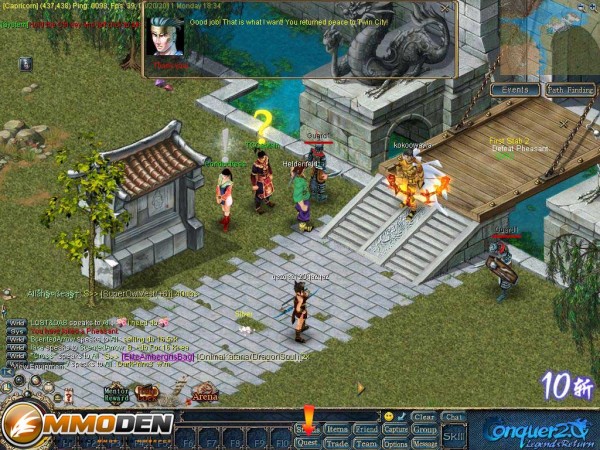 Graphics and Interface
Of course it is 2D not 3D! Those expecting to see something really awesome are always disappointed so beware. The game has a blocky appearance which may seem rather unappealing. The beginning of the game is quite deceiving because they are like usual games. Once the game begins players unfailing get a shock and all the excitement fades away. Most players say the same thing, "interface is terrible!" Besides, the game's monster sprites were also a disappointment for most.
To be fair, let us face it. The game is a 2D game; MMO has not been deceiving at all. They would have been deceiving if they had claimed it was 3D. Expecting more than this is really naïve on the players' part knowing it is 2D. Graphics is MMO's main attraction and they have improved things a lot because the game freezes much lesser. Additionally, the game is compatible with lower operating systems like windows 98. Players can enjoy the game regardless of the version of Microsoft windows they may be using.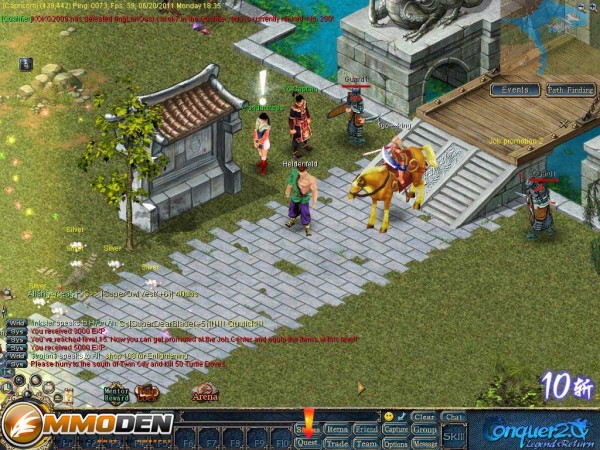 A Most Impressive Aspect
The core game play! This is the most impressive aspect of Conquer online. It is fast, magical, skillful and fluid. The animations are exciting and captivating, players definitely enjoy every single character in it. Another exciting aspect of Conquer Online is that at level 120 you get reborn. That means you get to start all over again from level 1. This may sound like puffing the air out of your lungs, but it is not that bad. This time you have access to better skills and attributes.
Level 120 may seem like quite a long journey. Some players may not even get there, but those who do feel better to know that the game doesn't end. You have three rebirths, which would mean that you can play, play and play! It has really attractive features, if you feel like a true gamester and if you have the right spirit to conquer. In fact you will never get bored or lose interest, which is a guarantee.
Often TQ Digital games have the same basics. Players can make use of special XP Skills which help in dealing with damage. This does spice things up for players because grinding becomes swift and easy. The player housing system is also really interesting. You can save items in a store and can even invite other players to come and visit you. You can also visit others. There are lots of other little improvements which make Conquer Online quite exciting and a different experience.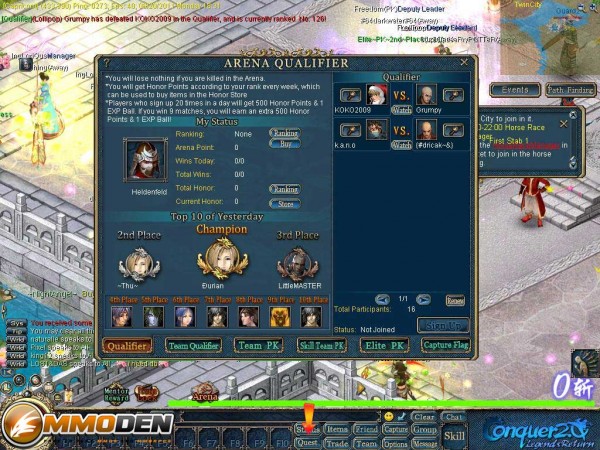 The Magic of PVP
Conquer Online has the PvP magic at last! It is an open PvP environment which means that any player can get killed at anytime by any player. That definitely puts things into action. Be warned! There are consequences to stop players from mindlessly blowing off other players. When a player accumulates 30 PK points there will be a 30% chance of losing one piece of equipment he has, upon being killed. The more the PK points the severer the penalty.
Additionally, the Guild War PvP mode is equally interesting. It allows the guilds (or groups) to compete with others online, to gain control of certain areas. The winning team is awarded an impressive number of CP points; however they can only be accessed by cash shopping. This is a minor set back. Removing this hitch could have made thing really exciting.
Another uncommon feature of Conquer Online is that there are PvP tournaments which are monthly and weekly. The weekly tournaments are scheduled every Saturday and monthly tournaments are held on the first of every month. Additionally, the 20 most powerful male and female players on the server get to compete on every Sunday. Feel the excitement of battle? Conquering is definitely a thrill! This is not all. There is still a lot the PvP environment has brought to Conquer Online.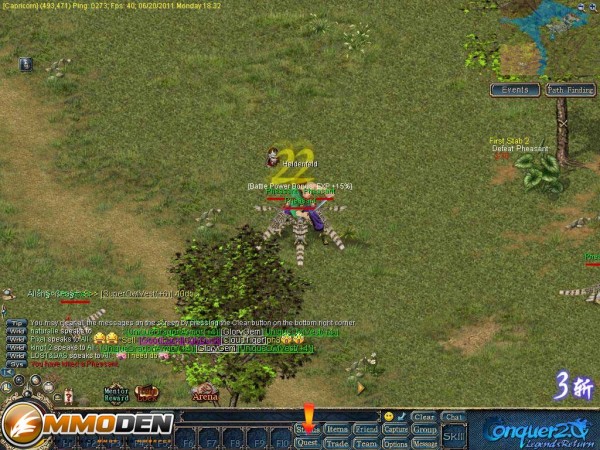 The Final Word
The game is very good indeed. For 2D games, Conquer Online is definitely unique and has done a lot better than other TQ digital games. It is a simple game with massive player base. Thanks to MMO, once more players looking for adventure, grinding, magic and combat have a good game to enjoy.
The minor setbacks with character customization and recycled monster animation are a bit disappointing. Other than these, the game is definitely worth recommending for others and playing it with other game lovers.
Videos