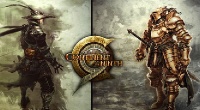 Continent of the Ninth or C9, the free action MMORPG from Webzen, was the talk of the free to play gaming world for months leading up to its launch. The game had AAA graphics and was looking to hit the scene and quickly rival other action MMORPGs such as Vindictus.
C9 combines a massive quest system that makes sure players are rewarded with many items that become very useful with a fighting system that is fun and extremely fast past. In addition, players will find that the crafting system in C9 is a valuable tool that can be mastered and those items created are worth the effort to find the materials and spend the time to make. Lastly, the PvP is Continent of the Ninth is certainly nothing to be ignored, there is truly nothing like taking on other players while a crowd cheers on the combatants from the stands. If this doesn't get your adrenaline running I don't know what will.
The instance based system may not be for everyone though, many gamers enjoy a more open world when it comes to their MMORPG enjoyment. Yet for those who enjoy this time of fast paced gameplay with instanced dungeons, C9 really has a lot to offer.
Watch our full video review below.