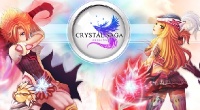 Crystal Saga already has very high hopes for itself right from the get go. Naming itself the top free to play browser based MMORPG for 2011. That is quite a bit of hype for a game to live up to. Now Crystal Saga is doing something that many other browser games do not do, it is played 100% in the browser and there is absolutely NO download, which for players with older machines this can be a huge bonus. The game has 2.5D graphics and is played at an isometric view point. The game also has very cute graphics so the anime fans and those who enjoy this type of art style in their games will appreciate the look.
Are all of these things enough to make it the Top Browser Based Game of 2011? We will highlight many of the games features and take a look at much of what Crystal Saga has to offer. We won't be crowning anyone in the review, but we will give a more basic opinion and then you can decide if Crystal Saga is the Free to Play Browser Based MMORPG for you.
Character Creation and Choices
While the number of class choices for Crystal Saga are decent, Knight, Rogue, Priest, Ranger, and Mage, the customization's are a bit lacking, with your choices limited to name and a male or female avatar. While this lack of customization is a downer, it truly is one of the few that the game really has. In saying that, I am speaking for fans of this type of game. Obviously the graphics and game type is not for everyone, nor are there many games on the market that truly reach out to every type of gamer. So for those players who enjoy the type of genre that Crystal Saga fits into, try not to be too turned off by the these minor limitations.
Quests and Storyline
One nice thing right off the bat is that the game starts your adventure off by giving you the usual quests that walk you around town and introduce you to different characters and vendors. This is always a nice start as it gets you acclimated to what you are doing as well as where people are that you are going to need when you want to do things such as sell items and all that good jazz. Additionally, these early quests give players the ability to earn some starter gear, and even some gear that is better than what would be considered starter gear.
Very quickly these quests will lead you out to the wilderness and have you fighting animals to give you the hang of how the games combat system works. Which will quickly introduce, you as the player, to the games AFK mode! You may be saying to yourself, "WHAT THE F!" Now hold on one second. As you may know from some of our other reviews, we are actually very much in favor of AFK modes. So we will not only reiterate why here, but also explain why Crystal Saga's AFK Mode is one of the better ones.
First off, you are not able to go AFK for in infinite amount of time, which is a good thing. You start off with one hour of AFK time. You can earn shards that will allow you to buy more time or you will get more time each day. Secondly, think about it, how many times have you been sent on a quest and you had to kill a ton of monsters to get an item or items and you ended up bored out of your skull and maybe even quit the game? Well this alleviates that issue. Lastly, there are many times you just want to shoot the shit with your friends in game or talk to your guildmates, but would love to keep fighting. So the social aspect here is also very good. Plus, most players really want to get to the meat and potatoes of a game anyways, the end game dungeons and PvP. Using things like an AFK mode allows you to do that. Now you may disagree with us on this one, but in the end we can see many more positives to AFK modes than we do negatives.
Character Advancement and Skills
Leveling up in the game happens very quickly, and you can expect to be assigning attribute points, 3 per level, and skill points pretty regularly. Each class has their own attributes that help your character become more powerful, knight and strength, mage and intellect, and so on. Early on we highly suggest to dump points into the stat that is going to allow your character to do the most damage, we found that this helped us to progress much more quickly, and later in the game you get a free reset so don't worry about making any early mistakes.
For the skills each character has two skill trees to choose skills from and assign points. Once again, we found that assigning your early points into the skills that will help you to do the most damage was the most helpful. The fact that later on there is a free reset of these points really allows you as the player to pick up and learn more about your class before you start to make any concrete decisions.
Pets, Pets, and More Pets
The pet and mount systems in Crystal Saga are quite amazing. Once you reach level ten you will be able to head out to Monster Island and try and capture your first pet with a taming scroll. After you have captured and tamed your first pet you will be able to summon them and they will help you in battle, earning exp and leveling up with you. Make sure as your pet levels up you increase their attributes and skills so they are as primed for battle as you are. The games amazing number of pets is one of the things that is a big draw. With each of these pets able to have a certain focus making each have their own special value to your adventures.
Depth of Gameplay
After playing the game for a few hours, it was quickly apparent how deep the overall gameplay design was, and how much detail was put into the many features of the game. From developing your characters soul and earning special abilities, to earn wings for your character to add to their body.
Once your character reaches level 25 make sure that you take part in the dungeon crawls, as they are loads of fun, and the loot from the boss monsters is well worth it. The game was smart and instituted a simple event system that will allow players to pick their dungeon and difficulty and head on it. Obviously the more difficult the dungeon the better the loot will be, so grabbing a few friends or guildmates to help in your dungeon adventures each day will make completing these much easier.
The Final Word
Overall Crystal Saga could quite possibly be one of the top browser based MMORPGs that hit the market in 2011. With such depth and feel to the game. So many features that all tie together well and a gameplay that flows quite well. The game does an excellent job of keeping players questing and keeping those quests quick and easy for players so there is always a sense of accomplishment. The graphics and sound work very well together to complete the overall feel that the developers were going for with the game. The game also has a wide range of appeal for both PvE and PvP players alike.