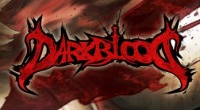 Dark Blood, the free MMORPG side scrolling action title from Outspark, has hit the free gaming market and hit it in a big way. The game was only announced a little over a month ago, and has already reached the point where anyone and everyone is free to jump in and join the action. Rarely do we see a game move so quickly into the public's hands. This could be good or it could be very bad. Good as the game could have been polished and ready to go, or bad as it could have been rushed out the door. Thankfully, the former is the case for Dark Blood. Right from the get go the game shows off a high level of polish.
Things are not all peaches and cream though, as players will soon find out, during character creation there is one issue that many players will find issue with. Character choices are fairly simple, Warrior, Knight, Hunter and Mage, and each of these are gender locked. Yes there it is, the negative. For some this is a big issue, for others not so much. Either way, it is worth mentioning. As you peruse through your class options a few things will stand out. First of all, each class has two class advancements that players will be able to choose from at level 20. Small videos are available to show off what each class and their advanced classes capable of.
Once you have chosen your character type you are quickly dropped into the games tutorial, this can be skipped, but there are some very worthwhile teachings and rewards to boot. From there a player will quickly be immersed into the games storyline and find out that the games quests follow a path that will lead a player through several dungeons that will also increase in difficulty as the player progresses.
PvP is intense and a major part of the game. Players who loved old school fighting games will love the games PvP options. The game also supports keyboard as well as gamepad for controls, which only adds to the ability for players to feel that old school fighting feel.
Overall, Dark Blood is a fantastic game for players who love action oriented side scrollers. Graphically the game is visually appealing. The games music and sound effects will get any players blood flowing and makes the pace of the action feel pushed to an all new level.