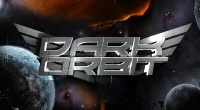 Free to play browser based space combat MMORPGs have been getting some legs in recent years. With the launch of Battlestar Galactica Online in 2011, Bigpoint really showed off what could be done inside of a browser window. But long before the company was able to bring the Battlestar Galactica universe to a browser near you, they had a little space combat game called Dark Orbit. If you were to take a look at a game and compare strict player numbers and consider that as success, then Dark Orbit would be considered one of the most successful games ever. Not just browser based MMORPGs, but all MMOs. The game at any time will have in the tens of thousands of players online, and with a running tally of total registered users over 60 million.
Now of course before we start breaking out and crowns, we need to remember that the game has been around for several years, and is free to play. Still these numbers are quite impressive, and should be noted for playerbase is something we always look at when doing a review. Let's face it, who wants to jump into a game and there are no players? So keep reading and we will go through many of the features and you can then decide for yourself if Dark Orbit is the game for you.
Getting Started
Registering an account is as simple as inputting a few things, and off you go. One thing to keep in mind though is this, the username you use is going to be your in-game character name. So make sure that when you are choosing this, you choose what you want your in-game name to be. Not my favorite way of doing things, but not a huge issue either.
Once you get past the basic registration stuff you will be faced with the choice of which faction you will choose. The faction you choose will determine who your PvP enemies are, so if your friends are playing the game and you wish to be on the same side as them then you are going to want to make sure you are choosing the same faction. The faction choices; Earth, Mars, or Venus have little other barring on the gameplay as neither provide any bonus or detriment to the player based on the decision.
Now that these decisions are out of the way, it is time to start the gameplay. When you do, you may be surprised by the pop of a second browser window. This will essentially be your main gaming window, and the previous browser screen will be what we consider your management window, where you will manage things like purchasing more ammo, new ships, picking up quests, assigning pilot points, etc. It may seem a bit odd at first, but it is pretty simple to use and get accustomed to.
As soon as you launch the gameplay window you will be dropped into a tutorial that will have you rescue a stranded friendly ship from some alien fighters. The basics of combat will be shown to you, as well as gathering of materials, and space travel. The tutorial gives a very basic understanding to the player of these game mechanics, and then moves the player to their first base to begin their journey of exploring the universe on their own.
Gathering Goodies
One of the main features of Dark Orbit will be combat and gathering ores as well as other items as your travel around the universe. Most of the quests will request that you head out to find X number of a specific ore and then you will be rewarded. The nice part about this is after you are completed you will get to keep the ore you have gathered. Of course in your travels you will gather items that are just found floating in space as well, such as credits, uridium, ammo for your lasers or rockets. All of these will be useful over time and are worth the moment it takes to pick them up.
The gathering of ores becomes especially important as you will be able to head back to your space station and convert these ores into more powerful ores that can be used to upgrade your ships cannons and rockets with bonuses to certain attributes. These ores will also be able to be sold and credits earned to buy upgraded ships, more ammo, and other items.
Ship Management
The management of your ship will be very important as you move through the game world. You will take damage from enemy fighters, so making sure to repair your ship when you can is important. Also, each ship has a limitation as to their ships cargo hold. So being wary as to how much cargo your ship is carrying can mean the difference between losing a lot and losing a little. Since ships can plunder from each other, even those within your same faction can come up and plunder those hard earned goods that you have spent time to gather. Just one more thing you will need to manage and be wary of. Of course as you upgrade your ship and get stronger, you will become less of a target and be able to also protect yourself from these types of nefarious characters.
PvP and Clans
Even though the game is essentially played is small slices of the over all large solar system. Keeping your head on a swivel once you leave your starter zone is important for many reasons. PvP is rampant in the game and everyone is fair game. So if you find yourself facing an enemy player with no help around you would easily find yourself quickly respawned back at your base. Large scale PvP is also prevalent in the later portion of the game where clans of players will gather together and roam the sectors for players of the opposite faction to destroy. The best protection for a situation like this is to create safety in numbers, so join a clan and grab some clan mates before you venture too deep into the solar system.
The Final Word
Our original take was that Dark Orbit was a simple gather and progress type game, but after playing it for a couple hours the depth and complexity began to show. With loads of ships, pets, drones, and weapons to purchase each player can be different than another. Then throw in all the potential upgrades for these individual items and it only adds to the games allure. The game is certainly no graphic marvel, but it does have several years under its belt, at the same time the game receives regular updates and a lot of love from the developer and publisher that translates into more game for the very large playerbase. The simplistic nature may turn some people off, but for others this will be an added bonus.