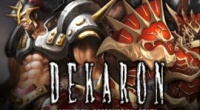 With hundreds of Free MMOs around already, we see new ones coming out almost everyday. One very strange thing about these MMOs is that no matter how hard they try to stuff themselves with dozens of unique features, the plain old school classic RPG gameplay remains most popular and addictive. This is one reason Dekaron, an Action RPG free MMORPG, with no extraordinary features to flaunt is becoming one of the most popular game from Korea.
Dekaron was previously known as 2Moon which was also previously known as Dekaron – funny but true! It is developed by a Korean company GameHi, most popular for Dekaron itself. Dekaron is a classic Action MMORPG like hundreds of others. This may sound pretty uninteresting but what makes Dekaron interesting despite this fact is its focus on the depth of gameplay and existing features rather than the number of fancy features. That is why Dekaron is a game more popular among mature gamers who prefer PvP and action based MMOs.
Storyline
Talking about classic action based RPGs, we don't remember any of them ever having much to do with the storyline. Some of them don't even have any. While Dekaron does have a back story, the storyline doesn't immerse well into the gameplay. Yet, the story begins with the exiled King Rictus, who upon the alliance of two moons, opened the gate between Haran and Abyss and unleashed a dark ruler Abaddon upon Haran, the immortal Land. Augur, the balance keeping force came into action and sent Abaddon back to the Abyss in order to maintain a balance. The gate was still open and passage was allowed. Then there is Trieste and Saint of Blades, a god who took a stand to prepare their world for the war and save Haran.
Races and Classes
Dekaron features six classes. The class system has its own set of pros and cons. First of all, there is no character customization option, not even gender selection as these classes are gender locked. However, the good part is that the game has a deep rooted skill system which is unique for each class.
Azure Knights- (male) They are well balanced melee fighters with self buffs. They have excellent combat skills.
Segnale- (female) Segnale is the support class. They are good fighters as well as healers. They have strong buffs and debuffs.
Incar Magician – (female) They are what can be termed as elementlists or wizards in this game. They have powerful offensive spells and they can call upon the power of elements.
Segita Hunter – (Female) This is the archer class of Dekaron. This class can deal great amount of damage from a long distance but won't do great in close combat.
Vicious Summoner- (male) Vicious Summoners can summon powerful pets during battles. They also have speed and good melee skills using twin blades.
Bagi Warrior: (male) Call them the tank class in Dekaron. They can deal a good amount of damage as well as absorb a good amount of damage.
Gameplay
GameHi itself categorizes its game as an arcade style action based MMORPG. Well, that is true to a great extent as the gameplay is heavily based on fast paced combat rather than questing. The game starts with class selection rather than character customization. While some may find it a con, it only appears later in the game that each of the class has a diverse skill tree which compensates for the absence of customization.
The best thing about the game is its combat. Instead of the boring turn based combat, Dekaron features fluid combat with interesting animation which makes it feel pretty real. Each time you attack your opponent, they won't just strike back immediately. In fact, there is a stun delay before the next move.
Dungeons in Dekaron are instanced, but the game really doesn't offer much excitement in the PvE area. Variety here is again the highlight of the game. There is a good number of dungeons available and it will keep increasing with level ups or expansion packs. However, the number of quests is quite disappointing. After a while, you will feel like its grinding and grinding.
This is where the PvP comes into the play, the saving grace of Dekaron. There are quite a many PvP zones. To add more excitement, you can attack anyone, anytime you want, but be ready to be penalized or avenged. If you carry on the massacre, the town guards will be sent to handle the situation, which means attacking you.
Players can choose to serve their time in jail in order to reduce their 'player kill' and 'inclination'. You can either serve the complete sentence or bribe the guards to reduce it. All these small features make for a really fun and exciting experience.
Controls, Graphics and Sound
Being an 'arcade styled' game, Dekaron has the simple WASD controls. The controls feel pretty smooth most of the time but you might feel them going a bit out of control during combat.
Dekaron really is a relief from cartoon-styled graphics. Graphics are a little better than what we would call mediocre. Although you start up as an unimpressive looking character, you would soon be looking much better with new equipment. The level of detail in the character, items and environment are eye catching.
Sound effects and score of Dekaron can be termed as mediocre, or somewhere inclined toward better than mediocre. As long as it's not annoying, we are cool with it. Voiceovers are also good, good for an FTP at least.
Pros and Cons
+ PvP focused gameplay
+Fluid combat with nice animation
+Varity of skills
+ Unique stat growth for each class
+Good graphics
-Gender locked classes
-Lack of Quests
-Latency issues
The Final Word
Overall, Dekaron is a nice MMORPG for those who love the fast paced action blended with RPG gameplay. If you are a classics' fan or wonder why so many other gamers are, Dekaron will offer a good explanation. So, it is a must try FTP.