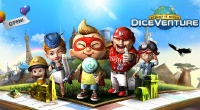 Dice Venture is one of those games that truly looks to break the mold of online options for gamers. Those players who remember the days when gaming would take place in the family room and board games would be set up and movements would be based upon the luck of the dice roll. Players will find a nice bit of nostalgia in this game and with many modes of play, and also multiple win options, there is quite a bit of fun to be had.
The game is still new, and has some tweaks that could make the game very good. For now though, players who are looking for an online option of the familiar Monopoly, will find what they are looking for in Dice Venture.
Check out my full gameplay video and see what the game really has to offer…
Don't forget to subscribe to our YouTube channel!