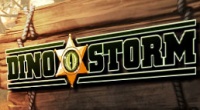 Dino Storm, the free browser based MMORPG from Splitscreen Studios, brings the player into a world where dinosaurs and cowboys have crossed paths. Top to bottom a player will feel immersed in an old west style world. Even the main town sounds old west, Dinoville. Players better ready themselves quick though, as the game world can be brutal. Some players are happy to find themselves on the wrong side of the law, and PvP is a big part of the Dino Storm world.
Your character will have some simple options to choose from during creation, and so will your choice in dinosaur color. From there you are off and running. Quickly through a few basic missions that are meant to get your acclimated to the games controls and UI, both of which are super easy to use and master. Quests will come almost faster than you could possibly imagine, and the variety may seem lacking in the beginning, but once you get to Dinoville that all changes.
Graphically the game is impressive, especially for a browser based title. With that said though, players can also choose to play the game through a downloadable client. A very nice option to have. Dino Storm was a pleasure to play, take a look and see what the game has to offer in the gameplay review video below.