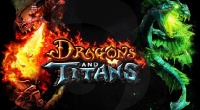 Dragons and Titans attempts to break the traditional mold of what is beginning to become a crowded genre. The number of new MOBA games that have hit the free to play market in the past year has been staggering. While Dragons and Titans is a MOBA, the fact that players can play directly in a browser in facebook really sets it apart. For some this is a good thing and for others not so much.
The game allows players to collect dragons and weapons with which they will combine one of each when entering the arena for battle. Each dragon has an ability set and when combine with different weapons the full abilities available to players is rounded out. From there the battlefield will look quite different to players as the game plays quite differently from any other MOBA. With movement available in the air and flying not only forward but backwards while attacking throwing a curveball into the traditional attack moves.
Players will gather gold and use that gold to speed the leveling of their dragon which in turn raises the power of a dragon and weapons skills. The end goal being to destroy the enemy teams Titan and claim victory.
Watch my first look of Dragons and Titans and see if this free to play facebook title is something that makes you want to take to the skies.
Don't forget to subscribe to our YouTube channel!