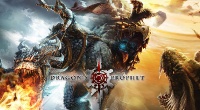 Dragon's Prophet has certainly made an impression with gamers throughout the ramp up to the games coming out. Players have their chance to adventure through a world filled with dragons, but even more so, have the chance to make any one of those dragons their trusty companion. These dragons are able to be tamed, trained, and then lend their backs for a quick ride across land, sea or air. They will also follow their master into combat and fight with fierce abilities.
Dragon's Prophet is also another entry, in what is becoming industry standard, of action combat oriented free MMORPG's. Players are starting to find the engagement of this new and exciting combat style to be more to their liking and they are showing it with their support of titles recently launched with this style.
With thousands of trainable dragons, dungeons and monsters a plenty to conquer, and lands near and far to explore. Dragon's Prophet has everything that a gamer could want in an MMORPG in 2013. Watch my full Inside the Den First Look Video and see for yourself if you are ready to become a Dragon's Prophet…
Don't forget to subscribe to our YouTube channel!