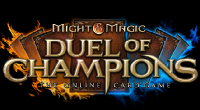 Duel of Champions is a free to play online multiplayer trading card game. This game is set in the Might and Magic world, but there isn't really much that ties this game to previous Might and Magic titles other than, well… the title. At its core the games mechanics are pretty simple and the tutorial does an excellent job of walking a player through the basics of a match in what feels like a storied adventure. With each small quest teaching a few new nuances of the battle board.
The real challenge of the game comes once a player is through the tutorial and starts to take on fellow players. Making sure that you have your deck of cards finely tuned can be the difference between victory or defeat. A starter deck is provided, but players will want to quickly begin to gather new cards to create their own decks to their own play styles as quickly as possible.
It is nice to see that the game is already getting worldwide attention in the form of tournaments that are pitting some of the best TCG players around the world against each other.
Check out my First Look video and see more of what Duel of Champions is all about.
Don't forget to subscribe to our YouTube channel!