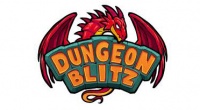 Dungeon Blitz, is a free MMORPG that mixes high paced action with a comedic touch to bring a mix that can be wildly entertaining. Right from the start a player will see that the games developers have a bit of a quirky sense of humor and they have interjected this directly into the game. When you create your first character the hair styles and other customization features ooze of humor.
Now side scrollers are certainly nothing new to the free MMORPG world, more and more games are finding a home in the browser window. Dungeon Blitz does an excellent job of making sure that the fast paced action doesn't slow down even though the game is playable right in the browser. Even when we found ourselves on a screen with multiple other players and several NPCs the game performed very well.
Getting into the game is quick and painless. Graphically the game is fun and the style is that that players of all ages can enjoy. A quick walkthrough of the controls is given and you will quickly find yourself through the tutorial and onto the mainland where you will find quests and adventures await you. While all these things are simple, for some players they may be just a bit too simple. Others will find the gameplay addicting and fun. I tend to be in the latter group.
Quests are simple and the game does have a simple enhancing system that makes hunting down certain items worthwhile. The dungeon ranking system also creates a leaderboard feel that adds to the excitment of running a dungeon multiple times as a player attempts to beat their own best time and score, while also trying to best that of other players.
Overall there is a lot to enjoy in Dungeon Blitz, whether you are a casual gamer or someone who is a bit more hardcore. Seeing the playerbase in the game was refreshing and shows that there are always groups and players available to invite to your group to take down that boss or complete that dungeon that is next on your list.