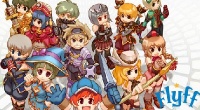 Most of the free to play MMORPGs don't have any charm except the fact that they are free. Well, Flyff is one that breaks the convention. Developed by Aeonsoft (Gala labs), it is probably the only game which has been the game of the month (In Korea though). However, it now has a staggering six million active users worldwide.
Although, it is counted among the earliest massively (literally) multiplayer online games, updates and newer content additions are frequently released for Flyff. It doesn't really have any outstanding features as compared to other F2P MMOs these days, but as the name suggests 'flying' is the catch. After a certain level reached, players can fly around on broom sticks or boards as their flying mobile.
The world and characters of Flyff are quite colorful and cute to look at. The characters are somewhere between an Anime and Saturday morning cartoons. However, the game itself is not as innocent as it seems. It has some serious amount of grinding and gore.
Storyline
Yes, it does have one. For worldwide players, the story is quite incomprehensible due to bad translation (originally Korean). However, the makers did try to involve a story which apparently had nothing much to do with gameplay. The story involves five Gods and three clowns interestingly. Together the gods created a magical world called Roika. Eventually, the one of the gods became power hungry antagonist and created evil creatures. A war began and in the middle of all that havoc, a part of the continent was sent afloat. This part known as the 'Madrigal' is where the players have to face the evil creatures 'Masquerpets' in order to save human race.
Gameplay
The gameplay of Flyff is quite captivating for RPG fans as there is a lot of combat and fighting. The characters are though too cute for this much amount of violence. In the character creation mode, the number of customization options seems a little disappointing. There is too little you can do initially and that is why it is common to find other players who look exactly like your mirror image. But you can always find a merchant who can change your appearance for some Penya (your local currency in Flyff).
Movement control satisfies both the WASD lovers and the point-to-click savvy users. The combat is easier for the earlier levels and gets pretty tough as you progress deeper into the games levels. The users also get to raise a pet in Flyff. These pets are initially eggs, dropped by a Masquerpets. It grows as you complete quests given by pet taming NPCs.
Classless Players
Initially, there is no choice of class in Flyff and every player starts as a vagrant. Only after reaching level 15, can one choose to be any one of four classes: Mercenary, Assist, Magician or Acrobat. The class system becomes more complicated as the player continues to level up further. At level 60, there are more sub-classes at level 20, your character becomes a Master who then has to return to level 60 to again become a HERO at level 121. Returning to the lower level with greater powers adds excitement and a faster pace to the gameplay.
Flying for Fun and Free
After reaching level 20, the players are able to buy their own flying machine (mount to be exact). Mounts can be broomsticks or skateboards. And that is where the name Fly for fun starts to make some sense. Flying in Flyff is fun but really nothing of significant importance for the whole gameplay. However, air combat can be quite challenging to master.
Combat
During combat, the character and health are very important, so you must carry loads of restoring items, which the game happily provides through many drops from your regular hunting rounds. Selection of skills might also alter the gaming experience for every user. One thing that seems lacking is perhaps limited number of quests. The advancement greatly relies on combat points and mob grinding.
Another noticeable thing in the game is a wide variety of monsters and evil characters. You won't find yourself an army of clones again and again. If you are attacked by a flying bat at one instance, you'll have to fight a giant ghost-like monster the next time. Moreover, there is an interesting Player vs. Player fighting mode in Flyff that will make any die-hard PvPer very happy to jump in and slay his fellow players.
The Social Life
There is a very interesting social system in Flyff. Partying becomes very important as the player advances to higher levels. In higher levels, a single party can have up to eight members. On the Flyff server, there are always plenty of friendly people to party with. Other systems include the lord system, introduced much later, this system is where a Hero or Master level player can be elected as the server's Lord for two weeks. This has a lot of privileges of course. The Guild, Couple and Mentor/pupil systems also are very well developed and have their own bonuses and game dynamics.
Graphics and Sounds
Flyff is a completely 3D MMO, both the world and the characters. This has been groundbreaking for its time and it still doesn't look too dated. Unlike most free to play MMOs, you won't have to make do with low and unappealing visuals. Moreover, the characters are really cute and charming to be precise.
Music is pretty well done in Flyff. The tracks change according to the location of the player. In the town it is a merry tune and in dungeons, something dark and mysterious. The sound effects, as compared to other MMOs, can be considered on par with many of the quality games on the market today.
Coming in for a Landing
To land on a final conclusion, Flyff is a free to play MMORPG that's worth playing, and it will handle the other factors itself. If you love the Anime style graphics and tons of monster variety. It really has the ability to keep your mind engaged for a long period of time without getting bored. A lot of factors including graphics, gameplay and a huge player base make Flyff a game recommended for any MMO lover. Even if you haven't played one yet, now is a good time to try. However, the intensity of grinding is a little disturbing for some. Yet, playing it for yourself will give you an idea about why it is has such a loyal following despite such a tough competition around.
Videos