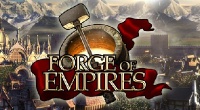 Forge of Empires, is a free browser based strategy MMORPG from Innogames. The game gives players the opportunity to take control of a small plot of land which they can develop as they choose. Adding housing for their citizens, supply buildings for their construction, happiness building to keep their people happy, various military buildings to produce different types of troops, and production buildings to create a wide variety of resources. The game follows a familiar pattern of which will have players building and claiming resources after a set period of time. The real strategy comes into play when the player decides where to place their buildings, or how to perform in combat.
One of the really nice features of Forge of Empires is the fact that there is a bit of RPG infused into the game. With different advisers bringing quests into the mix, as well as regions of the map that are under the control of NPCs. Players who choose to take these regions by power will have the ability to do so, but there are alternative options. Certain regions will also contain PvP towers which will allow players to compete in PvP tournaments to Medals. Each tower represents a certain age, and only military units from that age may be used in that tournament. Adding a bit of challenge to this part of the gameplay.
Ages will be achieved through the games detailed technology tree and players will be able to make choices as to which technology they wish to research and the order in which they wish to unlock these technologies. Each new tech will give access to new units, buildings, or resources.
Forge of Empires offers a nice update to the strategy MMORPG realm of games, and for players who enjoy this type of browser game should take the time and watch my full video review below and see if this is just what they are looking for.