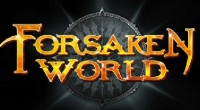 When I say that this Free to Play MMORPG offers something unique, I'm not talking about mounts or a pet system complete with a three legged cat. What I am talking about is something which is quite popular with today's generation, yet rarely found in the FTP MMO genre. So if you're a fan of the dark side and enjoy incredible graphics and animation, then read on!
Both developed and published by Perfect World Entertainment, Forsaken World celebrated its official release on March 9th, 2011. Prior to its 2011 release, Forsaken World was released in closed beta format in October of 2010, then later in open beta format in February of 2011. Forsaken World is being referred to as Perfect World's dark counterpart. For those of you who are not familiar with Perfect World, it is a colorfully animated and light hearted MMORPG which was released back in 2006. Since 2006, it seems that Perfect World Entertainment decided to appeal to its American gamers by creating a free-to-play MMO with a western theme similar to games like Runes of Magic and Aion.
The History: Dyos and Nyos
Forsaken World has an excellent back-story which really gives its gameplay purpose and meaning. As the story goes, Dyos and Nyos were the only two gods who existed in the beginning. The bottom line is that Dyos and Nyos possessed both creative and destructive powers and ruled everything.
Dyos made the discovery of a new world and called it Eyrda. This new world was nothing grand; in fact, it was quite bleak with nothing but a solitary tree which reached from the land to the sky. At the top of this expansive tree, Dyos found a massive star-wheel containing countless stars which were actually portraitures of gods. Within that star-wheel he found not only his image and the image of Nyos, but the images of many other gods.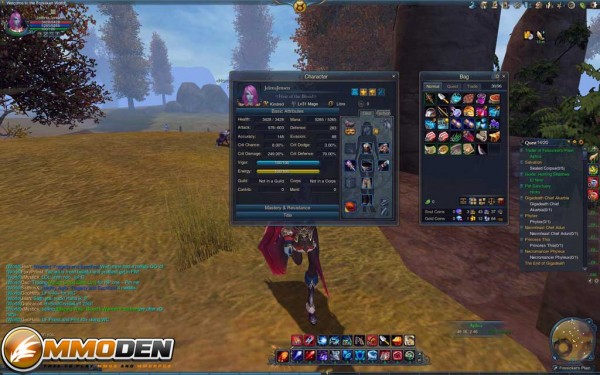 Over the next several million years, Dwarves, Elves, Humans, and Stonemen were created—each race with a unique genesis. The Dwarves were created because Tytan was in need of an industrious, yet short race for mining. Illyfue created the Elves in his image and placed them in the forest to work as his servants. Humans were created to live in western Ousta and are a product of Illefue's creativity fashioned as a replica of Vyda's appearance. Tytan created the stoneman by carving them. Stonemen are the only race which only contain men. Descendants are generated with the Stone of Birth.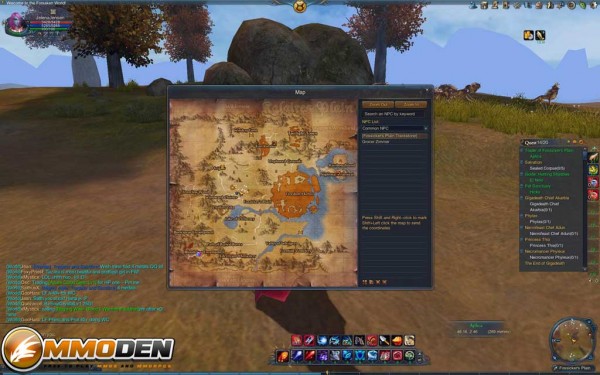 Character Creation Euphoria
The first thing experienced FTPMMO gamers will notice, and appreciate immensely, are the extensive character creation options. In fact, as it stands I think it's safe to say that Forsaken World is arguably the most detail oriented game in regards to character customization.
When creating a character, you'll have the choice of 5 different races. Those races include: Elf, Dwarf, Human, Kindred, and Stoneman. Here's a little bit about each race:
Stoneman – The Stonemen are notably the most proud and fearless race. They are also the strongest race as they are natural born warriors and prove to be a deadly foe.
Elf – Elves are very noble as well as clever and elegant. They are in tune with nature and strong in their faith which makes them fearless and agile opponents.
Dwarf – Known as the oldest race of Eyrda, Dwarves are by far the most technically advanced of all the races. Dwarves are intelligent creatures and utilize their clever inventions in combat.
Human – The Human race is quite adaptable and possess the potential to learn. Those traits combined with their charisma are what have brought them to the forefront as world leaders.
Kindred – While a descended of the Humans, the Kindred also possess immortal life, immaculate appearances, and a strong build. They are extremely sensitive and giving.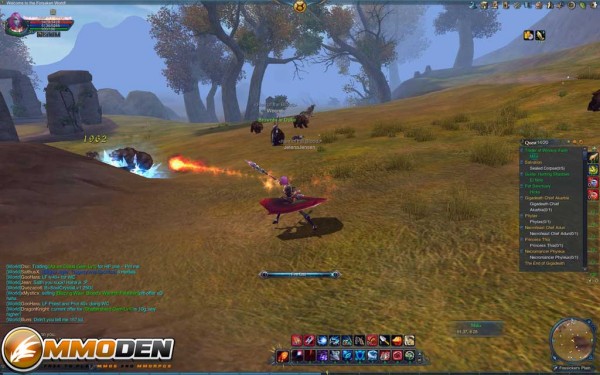 As far as classes are concerned, there are 8 to choose from. They are: Assassin, Bard, Mage, Marksman, Protector, Warrior, and Vampire—yes, Vampire! Most everyone knows that Vampires are a very rare find among FTPMMOs. You would really think with the recent popularity increase of vampires due to vampire movies, books, and themed items, that vampires would have made their way into online gaming awhile ago.
Classes are rated in terms of difficulty by way of a system called Micro. The Micro ratings go from easy, which is 3 stars—to hard, which is 5 stars. The classes are race locked, not gender locked—that means that each race has its own, unique set of classes. The only exception to that rule is the Stoneman Protector which is only available as a male.
Here are the classes:
Warrior – Warriors battle fearlessly and innately possess superior fighting skills. They are a vigorous and determined group.
Protector – Protectors make a valuable ally with their fearless and brave characteristics. They serve as tanks and fight to ensure the safety of their allies.
Assassin – Assassins are quick, quiet, and patient. They lurk in the shadows waiting for the perfect opportunity to attack—this makes them a dangerous foe, indeed.
Marksman – Marksmen are ranged fighters who can snuff out the life of an enemy in a single unsuspecting instant. They can easily overtake an enemy with accumulated damage.
Mage – While controlling the power of the elements, Mages can conjure very powerful and dangerous spells. The noble Mage is a force to be reckoned with.
Priest – Priests channel healing and angelic transfiguration—everything that is good. They are indispensible during battle as they can help to minimize the damage to their teammates.
Vampire – The blood of a Vampire holds the life force of the great Vampire King. Vampires use their own blood during combat to use their deadly skills or release potent magic. Their blood can also be used for good when saving the life of a teammate.
Bard – While traveling great distances, Bard's use the magic of their harp as a weapon. Their music may also be used to assist their allies. Bards are very versatile in combat.
Occupations may also be chosen. The list is long and quite interesting… your options are: Adventurer, Alchemist, Arcanist, Armorsmith, Astrologist, Bladesmith, Botanist, Collector, Merchant, Socialite, and Tamer.
Like I mentioned before, character customization is amazing with customizable face, skin, hair color and style, and even flair—each with dozens of options. For the most part, each race has its own set of flair and hair styles which assures a genuine appearance right off the bat. By the time you choose your gender, race, and class, you've created a very distinct avatar that is uniquely you. I love it!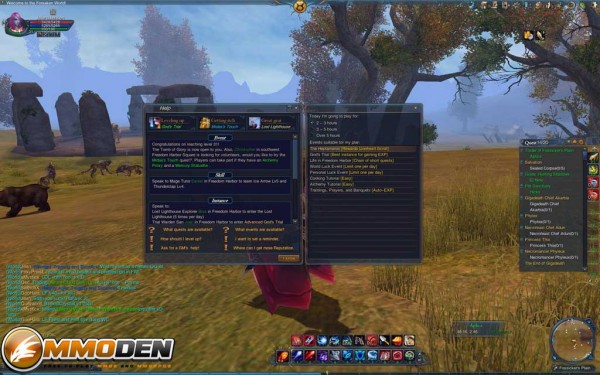 A UI That Hasn't Been Forsaken
If you're familiar with Perfect World, then you'll be right at home with Forsaken World. Forsaken World's UI is comfortable, easy to use, and customizable. The controls are about the same as Perfect World; you can control your character with both the W, A, S, and D, and point and click controls. Forsaken World has a feature that I absolutely love—auto-routing. With a single click, the auto-routing feature can take you to quest objectives and NPCs automatically which saves time and frustration. Combat is traditional with auto-attack via customizable skills through action bars or hotkeys.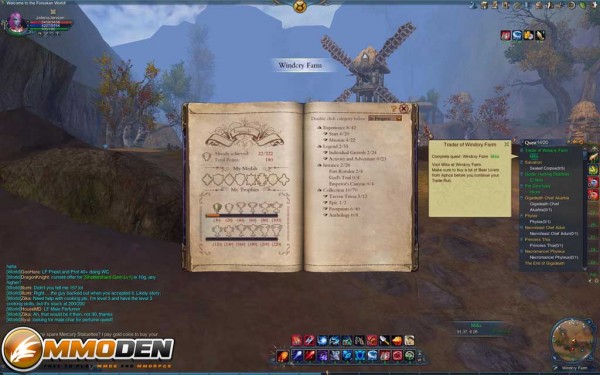 Legends: The Stuff Quests are Made Of
Quests are a pivotal aspect of Forsaken World and just like every other aspect of this game, development of the quests were not forsaken. Sure, there's always going to be a bit of a grind. That's the nature of the beast. But the developers of Forsaken World took it up a notch with fabulous presentation and depth thanks to a well written storyline. The quests progress cinematically while strategically placed cut-scenes that provide clues. These videos and narratives are quite similar to what you'd find in Aion and World of Warcraft. Gameplay progression moves at a fair pace.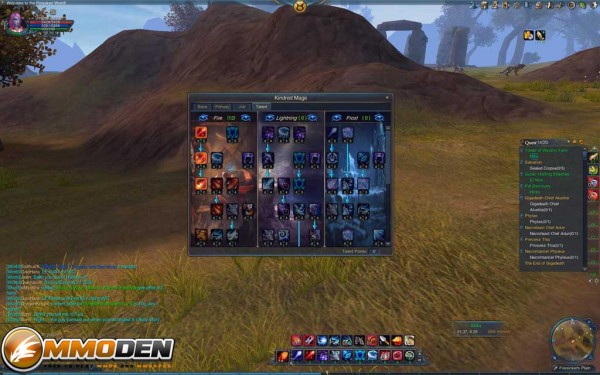 Forsaken World also has a snazzy achievement system referred to as Legends. Legends provides more than 200 achievements that can be met. Rewards for completing those achievements range from trophies, titles, medals, and other various rewards. This system is genuinely entertaining and makes questing even more appealing than Forsaken World has already made it.
What's more, Perfect World Entertainment created this MMO with a very detail oriented world. But the detail doesn't stop there. Every other system in this game has been given careful attention to detail, including the pet and crafting systems.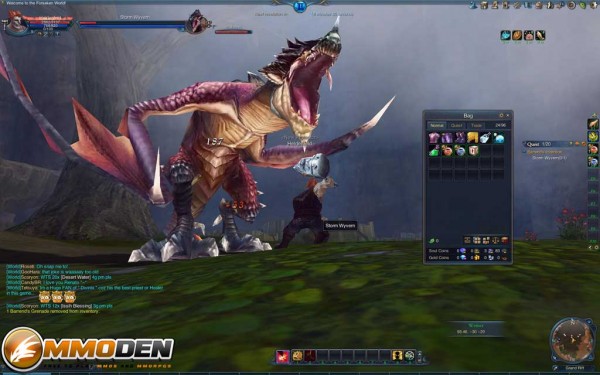 The Final Word
It's my job to take these games, take their lid off, flip them upside down, and shake them to see what falls out. I can honestly say that when reviewing Forsaken World, I was hard pressed to find anything missing, or even worth complaining about. The attention to detail throughout Forsaken World is astounding—even exciting—to a seasoned MMO role-play gamer such as myself. Even if just for the extensive character creation, download Forsaken World and give it a try… I can almost promise you that you'll more than love it. And what do you have to lose? It's free!
Videos