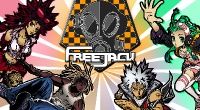 Freejack, the free to play MMO Parkour racing title from GamerKraft, offers a fresh style and incredible smooth gameplay. Players who have tired of the typical racing games that exist will find Freejack to offer something unique and different. Getting started is simple, quick and easy. Select a character from four starting options, and the game will quickly run you through a few informative tutorial that explains the basics of gameplay. Since there are several gameplay mechanics that a gamer is sure to see only in Freejack, we highly recommend the tutorial. Players will find that several modes are available in both PvP and PvE environments.
Competing and placing well in the different races will earn a player cash to spend to customize their characters with new outfits to show off to other players. Also, over time earn enough and be able to buy other characters to compete with. Each foot race will allow for high speed competition inside of the different modes.
Overall Freejack has a lot to offer for a racing game. Giving players the ability to develop and create their own style when it comes to their character. The solid playerbase allows for social interaction between gamers that makes the competition even more fierce, or can provide some fun in the team modes. Graphics and sound are amazing and really add to the total Freejack experience.