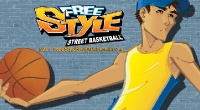 Online, one-of-a-kind, free stylin', hoop dominatin', street shakin' and dream makin'. What in the world am I talking about? I've just given you an example of a few ways to accurately introduce a new game that is shaking up the world of free to play MMOs.
Created by JC Entertainment and brought to you by Game Kiss is the new 2D MMORPG FreeStyle Street Basketball or simply, FreeStyle. You'd think with the popularity of MMORPGs and sports games, that someone would have come up with a B-ball game sooner; or at least developed a 3D version. Ah well, beggars and choosers.
You Can't Just Play Once
Let me start by saying honestly that this game is addictive. Don't even consider this game if you aren't prepared to spend some time playing ball. However, a game can only be addictive if you actually get to play. You will most likely find yourself having an incredibly hard time getting into a game; and not because of the large player base. FreeStyle's player base is what could be describes as average. If you are lucky enough to cruise right on into a game, the chances are just as high that the interface will glitch and you'll be stuck guessing what happened. Frustrating, right? Yes, but remember what you spend on membership, nada.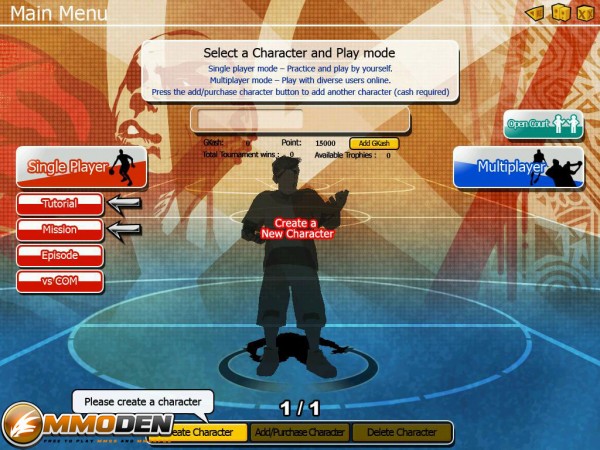 Easy Pick Up
FreeStyle is a fun, unique take on street ball, stepping aside from the traditional court based version of the sport. You don't need to be a basketball guru to enjoy this game. The hip hop genre of music is fun as is the urban style game play, which runs smooth once you get going; despite various annoying glitches. FreeStyle graphics are interesting, cel-shaded and the use of vibrant colors really keeps your attention. Though, as I mentioned earlier, a 3D platform would be preferred. Game controls are incredibly simple and lend to the fun because the frustration of having to negotiate multiple control combinations in the midst of game play is removed. It's refreshing to sit right down and play something without first developing a stress headache. Of course, that's my personal opinion. However, I'm quite sure I'm not alone.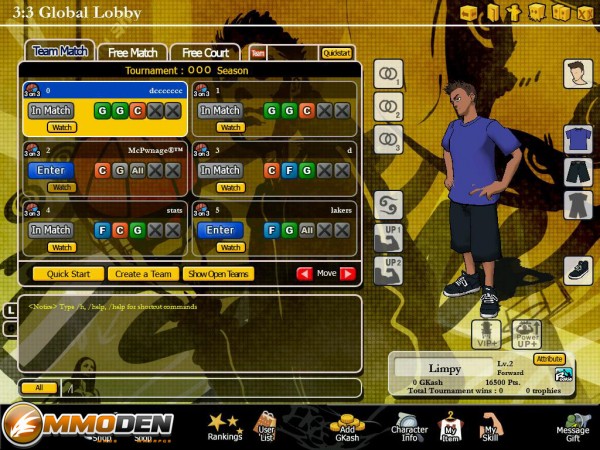 Getting On The Court
Alright, back to the task at hand. This is an MMO and you know what we do first, create a character; big surprise, right? Usually building your avatar is fun and you can really use your imagination. However, the FreeStyle character selection will pretty much depress you. Your choice of avatar is pretty slim, with only three guys and two girls to choose from. What's more is that they pretty much look identical. Okay, you can deal with that, right? Let's change up their features and add some bling to their wardrobe! No can do. If you truly want to customize your character, you've got to pony up. Experience points, you ask. Nope, wrong again. Most everything you need to customize your avatar costs cold hard cash. So the bottom line here is that most people have no desire to spend money to clothe their avatar. Let's be real here because in today's economy we can hardly afford to customize our own wardrobes, thus the free game we're discussing now. With the limited initial avatar selection, most all players will look nearly identical and you're going to have a really hard time keeping track of your own.
A Slam Dunk
Now you've created your character (which you hope you can find later while playing Where's Waldo) and now the next step is to pursue a career. You'll start a career by first choosing which position you will play; Center, Forward or Guard. Now on to game play. Your choices are all half court; 3 on 3, 2 on 2 or 1 on1. The full court game is currently available overseas and is rumored to be stateside in the near future. Prior to stepping out on the street though, it's recommended that noobs check out the tutorial, aka mission mode. You will get a better grasp on the game as well as pocket some dough.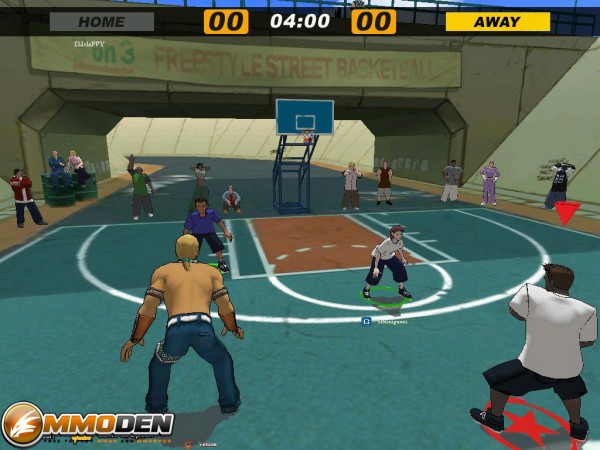 The Final Word
In spite of my complaints and under all the seemingly forced slang used in the game, FreeStyle is a fun little MMO. If you're lucky enough to get into a game with no lag or glitches, you're going to enjoy yourself. Even if you're not a hoops fan, I'd recommend that you give this game a try. The game play really is enjoyable, especially because it's so fast paced. It's hard to say no to practically the only basketball MMO around. I'll give FreeStyle Street Basketball a solid A for effort. Who knows, the developers may just surprise us with some upgrades and servers, yo.
Videos