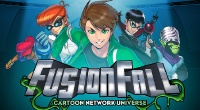 Cartoon Network and Grigon Entertainment have taken Fusion Fall to a new realm in the game world. It is now a Free MMORPG web browser based free to play game and is completely awesome. Its arrival had been delayed but the wait was worth it. Fusion Fall is giving players a chance to team up with some of their favorite Cartoon Network characters and thwart evil's attempt to take over the planet. It is evident that Fusion Fall was developed and geared towards the kids that enjoy these cartoons, but could there be something for older gamers to enjoy too? Read on and find out more about what this Sci-Fi Cartoon Free MMORPG has to offer.
The Game Background
The game has great graphics, music and depth which make playing it very exciting. The missions, interface and combat system are very impressing and provide an easy compete with other players online. What's more interesting? All the major Cartoon Network characters appear in the game! Amazing and thrilling indeed. You get to see Dexter's Lab, Samurai Jack, The Powder-puff Girls and Codename: Kids Next Door. They all make an appearance in this game with voice acting! A splendid experience indeed!
However, there is a catch to these interesting features in Fusion Fall. Only few areas are accessible in the free to play version because Fusion Fall has a higher production value than what MMORPG games usually have. The restriction for free players is that only four out of 36 Nanos are available. You can gain full access to other areas and features in the game with a monthly subscription of $6 for single players or you can get a family plan for $4. This covers four accounts and makes things a lot more interesting.
Starting the Game:
Like all MMORPG games you have to download and install the game. To do this you need the "Unity Engine" which is a browser plugin to facilitate and support this web browser game. Within seconds of clicking you will be able to complete the download and installation. The whole process is very convenient and easy. However, sadly there is a minor setback. You will need to use either Internet Explorer or Mozilla Firefox for Fusion Fall. It wouldn't work with any other browser. You have no choice but to switch to using either of these two to enjoy the game.
From the moment the game loads it captivates its players. The voice acting begins immediately in the introduction. Then the player can choose a character. There is a random name generator you can use and get suggested names. Otherwise you can also enter a first and last name of your choice. The hitch with the later choice is that you will need to wait for an acceptance by the mod team.
You can customize your character and explore the impressive options. You can have them made into five different heights and three different weights. You have the choice of 23 different hair colors to select from and twelve different skin tones to go with them. Moreover, there are five eye colors for players to match with their customized characters. Additionally, there is a variety in shirts, pants and shoes for players to select from.
Once the customization and selection is done the player can proceed. There are a series of voice acted scenes and movies guiding the player through the tutorial.
Key Game Characters
For free online players there are four Nanos available, and these are;
Eduardo: If you have watched "Foster's home for Imaginary Friends", you will love the large purple monster. He has a remarkable gift of nuke. It is radar system which detects your enemies which may be nearby. He also has an area of effect heal for his player to recover from attacks.
Buttercup: All power-puff girls are loved by Cartoon Network fans, and Buttercup has her ability to stun the enemy. She can cast a group heal and will honor her player with fusion matter after defeating the opponent. This character is the first Nano you will play as during the tutorial.
Eddy: Yes it is the Eddy. He is most out spoken Ed brother from "Ed, Edd and Eddy". In Fusion Fall he is gifted with the ability of self healing, boost group speed and can shield and protect you as his player. He can also help you heal and protect from potions that the enemy may use to attack you.
Nambah 2: Everyone knows him! The short fat kid from Codename is really working things well in Fusion Fall. He has the abilities of increased passive movement, he can teleport his player to safe spots, away from danger. Once the enemy is defeated Nambah 2 brings rewards of extra taros.
Your objective is to save these Nanos and acquire all four of them till the end of the game.
The Storyline
The story line of Fusion Fall is not very expressive but the back-story makes it very impressive. It has a way of hooking the players. It begins with Dexter and other Cartoon Network characters explain the danger they have to defeat. The evil lord Fuse is determined to conquer our planet and has plans of spreading slime all over it. Things get more interesting with the mention of the power of this slime. It has spawned duplicate versions of all the major characters but they are all evil. You have to stop these evil characters.
The combat in Fusion Fall is fast paced and you need to use weapons like guns and swords to fight the enemy. You will need to learn how to play using the keys on the keyboard and the mouse to control aiming and interface. You will also need to switch targets by moving the cursor over to the target. There is also a mini map which shows the direction of your mission objectives. The good thing about Fusion Fall is that the inventory menu functions are typical MMORPG format. Using them is very easy and convenient.
Graphical Work of Art Indeed
The graphics and effects of the game are very impressive. Sound quality is remarkable and makes the player love the Cartoon Network effect. Fans of Cartoon Network who may have out grown their addiction to it will definitely revert back to it. MMORPG has made this game irresistible for adults as well. Being a teenager or a kid to want to play Fusion Fall is not the only excuse any more. Missing out on this game is defiantly a loss for anyone.
The characters in the game and the monsters are really interesting to face. The fast paced combats, defenses and potions never fail to keep players tempted to continue playing. There are amazing graphics and the background is really perfect. However, the only complaint most players have emphasized is too much of travel area. Maybe the monsters are too spread apart which is why one has to travel a lot before finding them and finally conquering them.
Another limitation in Fusion Fall is that later in the game you can use Mojo Jojo's monkey agents to fly across areas but you have to pay for this option. Before you get to this level you have to wait enough. Let's hope in future these features become available in the free to play browser based games list.
The Final Word
This game is one of the best experiences any MMPRPG game can offer. There are impressive game environments, graphics and characters. The Fusion Fall game is definitely a remarkable achievement for Cartoon Network and Grigon Entertainment.