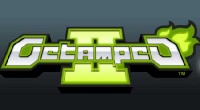 GetAmped2, is a free beat'm up MMO from CyberStep. Remember that cartoony looking full on beat em' up fighting game named Splash Fighters. Despite being very simple and ordinary, Splash fighter was an MMO that kept thousands of people engaged for hours. Yes, you used to play the Amped mode. Imagine the same kind of captivating fun with enhanced graphics and much smoother gameplay. Congratulations, you have just upgraded your imagination to GetAmped2.
It is hard to say if Get Amped is a completely new game, but it definitely looks like a revamped version of the Splash Fighters. What makes it more likely is the fact that this game comes from the same developers and publishers, CyberStep. Once again it's a free to play and carries along a lot of elements from its predecessors. The game has around 26 million users around the world.
Story
Getting Started
Although many people would call it a senseless fighting game, only a true gamer will realize the ultimate reason and goal of the fight. The story takes in to a distant future where mankind has already surpassed the boundaries of this solar system and encountered many races. The floating city of Wingdom is the Earth's second satellite where the GetAmped Tournament begins.
Fighters from around the space gather in the city to take part in this tournament which marks the new start of mankind in this galaxy. What adds a twist in the story is an evil and mysterious terrorist organization named the 'Val Shark Army' is conspiring to prevent the success of GetAmped Tournament.
For everyone who has enjoyed the good old arcade fighting experience, beat em' up style MMO fighters are the ultimate online excitements. Good news is that GetAmped2 offers a lot more than the simple punching kicking action all the way.
Once you are done selecting your character, you can start off with a simple, short yet very helpful tutorial. The controls are simple ZXCV. Tutorial will give a basic overview of using these controls and combos. However, if you are not used to these keys, which is although quite unbelievable, the game also allows for gamepad functionality.
After the tutorial ends, players are rewarded with dozen of items. An NPC takes you to the tour of the floating planet Wingdom. This is also one very interesting feature as there aren't many fighter games around which allow the freedom of exploration in the game world.
Players are given ranks and they can track their stats. Each win earns them in-game cash, with which they can buy clothes, furniture, accessories and weapons.
So, the overall gameplay is actually made more engaging by adding a little bit of RPG element in it. However, we shall return to the actually goal of this game, which is to 'beat em up' actually. Combat is way better than it used to be in Splash fighters. It is fast paced and better graphics make it look much more interesting as well.
Customization
Gameplay
Customization is not something that comes earlier in GetAmped2. After you have taken your tour with the friendly NPC, you will be dropped into your house. Yes, fighters do have a home, and more importantly they have a fashion sense too. Players will be awarded pieces of furniture every now and then. These can also be bought from the in-game market. These pieces of furniture can be arranged in the room. A skin editor allows for unlimited customization options. Change your wall colors and costumes pattern. Also, a polygon editor allows you to change the shape and dimensions and make a whole new item out of the existing one. This is clearly one of the best customization we have seen in an MMO, especially a free to play shooter.
There are essentially two different fight modes in GetAmped2. Mega Force HQ is where you can team up with other players to take on co-op missions. This usually involves taking on another team. This is a good place to start gaining experience. Even noobs can start their own game in Mega Force HQ.
More competitive place is the GAT stadium, the place where actually tournament is being held. GAT offers two game modes, private and team. Private allows up to eight players to compete in a battle royal style match. Team matches also follow the same last-man-standing format, only the winner is a team instead of a single player.
Graphics, Sounds, and UI
There is nothing much to talk about graphics or sound of GetAmped2. The game is clearly a great improvement in Splash fighters, but it is still not up to the current standard. Even for a free to play, there is a lot of margin for improvements. However, the game does have bright, colorful and catchy backgrounds. The polygon editor is really on excellent feature.
As for the sounds, there is nothing more than effects. Music sounds like a stock track. We really think that the game has some excellent dialogues between NPCs and characters. It really would have been wonderful if they were actually dubbed instead of appearing as misspelled text.
The Final Word
Many people would term GetAmped2 as an average FPS MMO, but it is truly a must-play for fighter fans. Not only because it offers fast-paced beat em' up combat, also because it beautifully blends RPG elements into the gameplay. It won't be requiring the most advanced computer system and surprisingly you'll find yourself spending hours and hours playing this game.