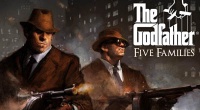 Godfather Five Families, a free to play browser based strategy MMORPG, pulls a player into a gangland right out of the mid 20th century. Players will take control of a small area of the city in the middle of a battle between the five families. Just like many other strategy titles that are browser based, players will gather resources, construct buildings, and raise an army of loyal thugs to help maintain control over the turf you have claimed for your own.
Getting Started
Any browser based strategy players will quickly recognize the basic structure of the game. The gathering of resources, the management of researching technology, and the construction of buildings to give you an advantage and help to increase resource production. The one thing that is unique is the game world that this type of game is set in. Many strategy games are set in fantasy or more war like ages, not in the city during a time of heavy crime family influence.
Gameplay
Once you start playing and begin to get your hands dirty with the games tutorial, you will find yourself quickly pulled in. Not only is the game strategy driven, but the backstory is well done. Moving around the game world you will be guided at first by the tutorial and the games task system. Slowly you will graduate from these tasks taking a very short period of time, to requiring hours to complete a building or task. By this time you will have multiple tasks to take on, as well as starting to battle your fellow players.
Graphics, Sounds, and UI
When discussing a browser based MMO it is always so difficult to remain unbiased to graphics. Since browser based games are meant mostly for the masses and attracting players who maybe do not have the best computers to play the higher end games and therefor the graphics are toned down a bit. GFF is no different and yet it still has a graphical style that fits the game and the game world very well. Sounds in the game pretty much fit the same bill as the graphics. Well done for the game and the setting, but nothing spectacular. The UI is simple and easy to use. The Tutorial walks you around and makes sure that you know what you are doing and where things are, exactly what it should do.
The Final Word
Godfather Five Families is very enjoyable and the fact that it takes many strategy elements and wraps it in a world that is not new to browser based games, but certainly new to strategy games is very refreshing. Players who love strategy games and are looking for something different from all the fantasy and war themed strategy games they have been players for years will enjoy the change of scenery and pace for sure.