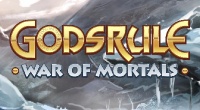 Godsrule gives you the player the chance to rule from the almighty throne of a god in the free browser based strategy game. Building up your village with a wide range of buildings. Heading off to war in both PvE and PvP battles with a multitude of units and spells at your disposal. Progression is time based and convenience items are available from the shop, but anything that exists in the game can be built with time. Those who want it faster the option is there.
The game has a fun art style and the audio aspects of the game only add to the games charm.
Check out my full gameplay review of the game below and see if you are ready to rule as a god.