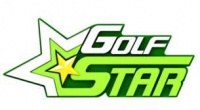 It's time to switch it up a bit from the standard Free MMORPGs we're used to. Put down your rifles and crafting supplies. We're not going to shoot bad guys or mix potions. Today we're taking it to the greens—and no, we're not gardening. It's time to break out the clubs and swanky plaid. We are going to hit the golf course!
Developed by Com2uS and published by Gamigo, Golfstar celebrated its official release on February 24th, 2011. You'll recognize the publisher Gamigo in connection with games like Loong, Fiesta, and Black Prophesy among others. Currently, Golfstar is the only sports game in Gamigo's portfolio. Not only that, but Golfstar is one of a very small selection of FTPMMOs in the golf genre.
The Club House
Right from the start you'll realize that there isn't anything spectacular about the character customization in Golfstar. You have 2 female and 2 male characters from which to choose. Each character may be customized—but only to a point—with a minimal selection of only a few hair colors and styles, and only 2 different faces. As gameplay progresses, your ability to accessorize your character to create a more individualized look increases as you earn the opportunity to acquire various articles of clothing and accessories. Not only are these accessories aesthetically pleasing, but you will find that many are helpful throughout gameplay assisting in areas such as accuracy, power, control, and stamina.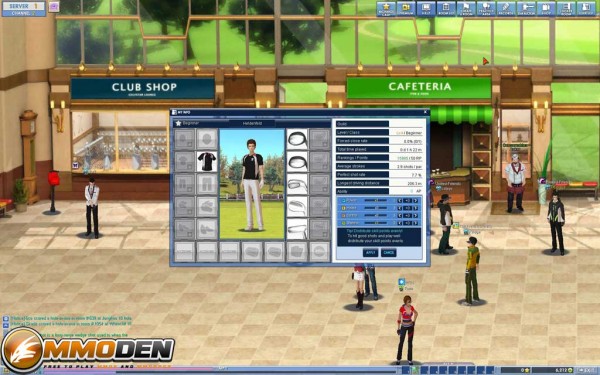 Tee Time
One point about Golfstar that is definitely worth making is that the controls are very basic! Depending on your gaming style, you will either be thrilled or completely annoyed by the controls in this FTP. I have found the controls comfortable and the simplicity gives me the chance to focus on my gameplay, rather than twisting my fingers into knots. On a positive note, the developers of Golfstar did an awesome job of creating very realistic gameplay.
Swinging your club is an easy two step process which only requires the use of one key—the spacebar. The methods are the same—whether you're putting on the green or teeing off. The first step in swinging your club is filling the power meter by holding down the spacebar. When the power meter has reached the point where you want it, you simply let go; easy enough. Next, you'll tap the space bar to aim your swing. Basically, you'll get better results from a more centered aim.
The Golfstar controls don't stop at the spacebar. You will implement other controls as well. For example, the mouse allows you to aim right or left. You can also use the mouse to manipulate the camera controls. These controls include three viewing options. You can focus on the golfer, the hole, or the landing area; all of which can be very helpful when planning your swing. These options are just one of many things that make it so easy for players to become immersed in Golfstar.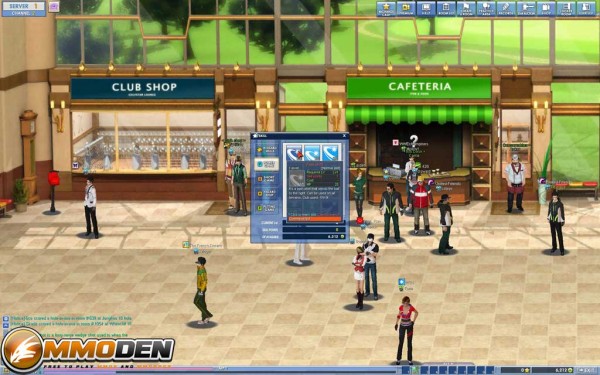 You've Got Skills, Mad Skills
Golfstar adds depth with the opportunity for players to learn skills—instead of simply focusing on your score card. These skills may be added to your action bar and accessed with easy access hotkeys. The skills in Golfstar really shake up the gameplay and maintain intrigue in a game that could quite easily become a monotonous 18 hole jaunt. What's more is that the skills you learn will give you an edge on the course against your opponents. The courses in Golfstar are quite challenging, so you'll need all the edge you can get!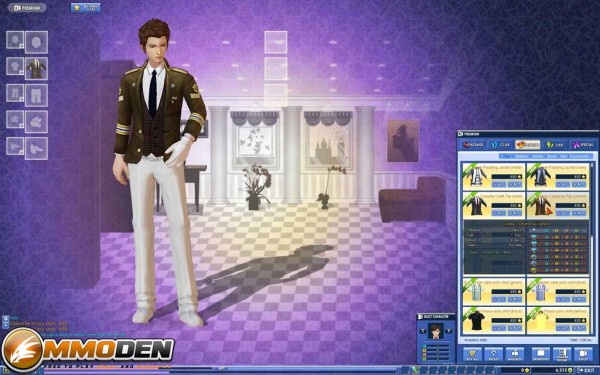 Don't Forget to Check the Weather
Playing a round of golf on Golfstar offers the same challenges—or as I call them, frustrations—as you would encounter when packing up your clubs and playing at any golf course around the world. Golfstar's developers took a look at all the variables facing a golfer while on an actual golf course, boxed them up, and put them into this wildly lifelike FTPMMO. Everything from the wind and humidity to the slope of the green require concentration when preparing to swing. And this is no easy task as you are limited to a very short amount of time to make those decisions. In general, you'll have between 30 and 90 seconds to sum up your surroundings and take your swing.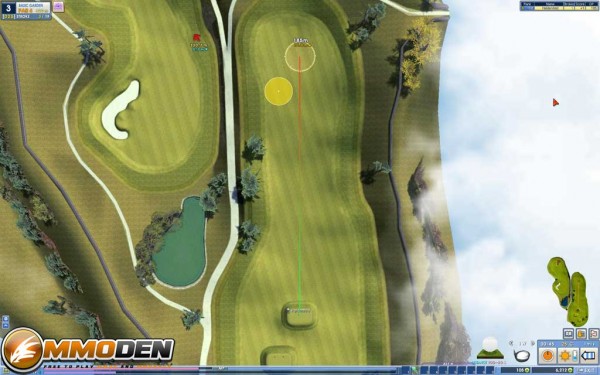 Variety is the Spice of Life
As it stands, there are only a few courses available on Golfstar. In my opinion, the only course that really sets itself apart from the rest is White Cliff. This course is packed with sand, water, and ambient background noise. While the course selection is a bit weak, the selection of game modes is a bit more intriguing.
Golfstar offers 5 game modes. One of the modes, Skins, is where players gamble at each hole with in-game currency. Another Golfstar game mode is Match. Match sets players head-to-head per hole; sometimes with two people per team. The Stroke mode is your standard golf match where the lowest score is the winner.
Tournament and Team Tournaments are especially fun and unique as it features up to 30 players simultaneously. This means that all 30 players can play at the exact same time and you're not left to yourself for an infinite amount of time as you wait for everyone else to take their turn. It's genius, right? If there is one thing that any MMO gamer can complain about, it's playing the waiting game. The Tournament modes eliminate the wait time and are what set Golfstar apart from the rest and make it shine.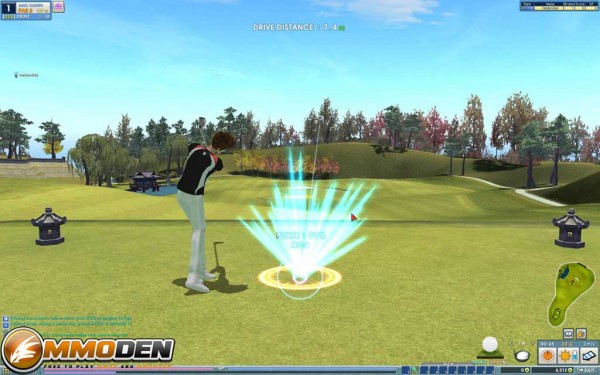 The Final Word
Golfstar is, in my opinion, the best FTPMMO golf game available today. From the challenging courses and its excellent selection of modes to active skills and exciting gameplay, the realism found in Golfstar is refreshing. What's even more refreshing is the sense of community that you'll find in the game lobby. By eliminating the wait time found in other games when opponents take their turns, gameplay in this MMO is made faster paced, more exciting, and even more desirable.
Unfortunately, while Golfstar most assuredly has some positive aspects, it also has its cons. It is hard to gripe about a game that I really like… however, there are some issues that must be pointed out. For instance, the limited content is definitely discouraging. As I mentioned before, there is a good selection of modes, but the map selection is minimal and disappointing. Hopefully this will change over time.
My next complaint is about the equipment. Just like you'll find in so many other FTPMMOs, the equipment you purchase is only temporary—they're rental property. You'll note this right off the bat because your initial set of clubs has a 30 day limit. Not cool. If you're not conscientious of your spending and your supplies, you could damage your stats by running out of inventory while finding yourself broke. I suppose some gamers may view this issue as simply part of the strategy of gameplay. I, however, find this principle a bit annoying.
With all that being said, Golfstar is genuinely the most lifelike FTPMMO golf game available today. As with any game out there—whether it's a console or FTP—it has its share of pros and cons. Fortunately, Golfstar's pros by far outweigh its cons making it a true gem. Even non-golfers will find themselves immersed in this MMO.