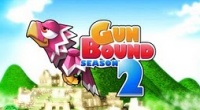 A Free to Play 2D Tactical Shooter, Gunbound is a game which does not require a long commitment. Unlike most MMOs that have to be played incessantly to build skills or level up, Gunbound is a simple game that needs just 10-15 minutes in the day to be enjoyed. This is a tactical turn based shooting game which can be quite interesting if you are into such kind of games.
First Look Inside
The looks of Gunbound are very old school, with cartoon style graphics and an overall child-like appearance. Though the game does not appear 'Mario Brothers' like, it comes very close. Do not go by the looks of the graphics though. This game is action packed and as you take turns blasting people away on the other side of the map; you will indeed have a lot of fun.
The game play is nothing extraordinary, just plain old fun. The basic point of the game is to gun down your opponents, or entire teams of them, by shooting them and bringing down their hit points to 0. Interestingly, you can also blast off the terrain over which your enemies are standing, causing them to fall off the map altogether.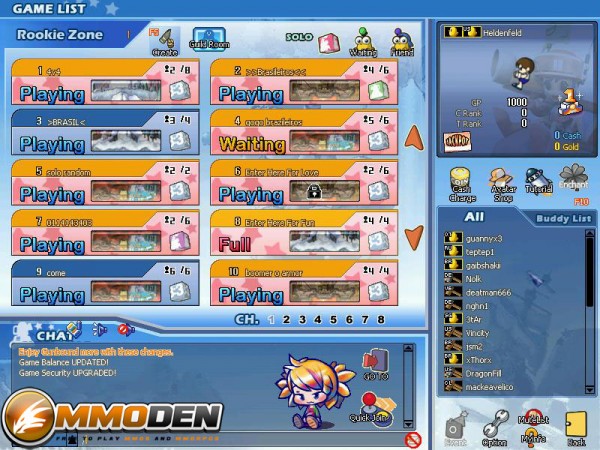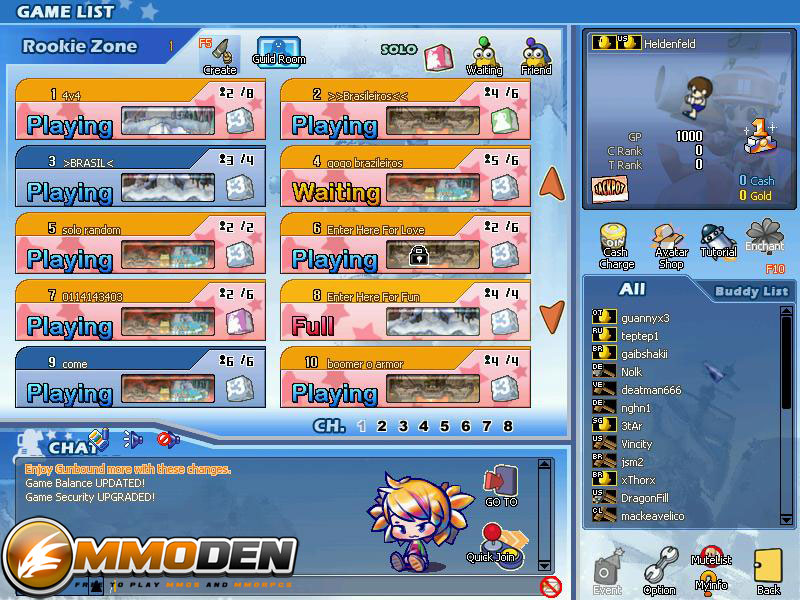 Turn Based Gameplay
The gameplay is what makes this game so gripping. The levels are different from each other and there is enough variation to keep you coming back for more. There are 21 different playable characters to choose from. Each of these characters has their own strengths and weaknesses.
The 21 mobiles are Armor, A. Sate, Aduka, Bigfoot, Boomer, Dragon, Grub, Mage, Ice, JD, J.Frog, Kalsiddon, Knight, Lightning, Maya, Nak, Phoenix, Raon Launcher, Trico, Turtle and Wolf.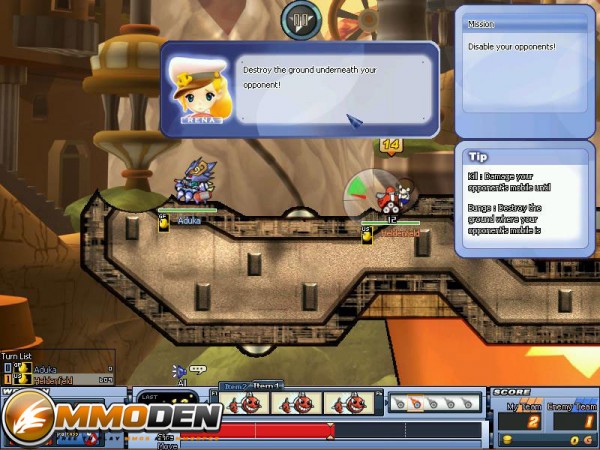 The characters are also known as mobiles. There are some mobiles that cause more damage than others while there are others that are more proficient in shooting the terrain under their enemy's feet. Dragon and Knight are the most powerful mobiles but they cannot be selected. They can only be played if they get selected randomly.
The characters themselves are completely different and if you get bored playing with one, you can immediately switch to another. This will bring in the variety that you were looking for in Gunbound. There are also five different gameplay modes, which makes the game more interesting.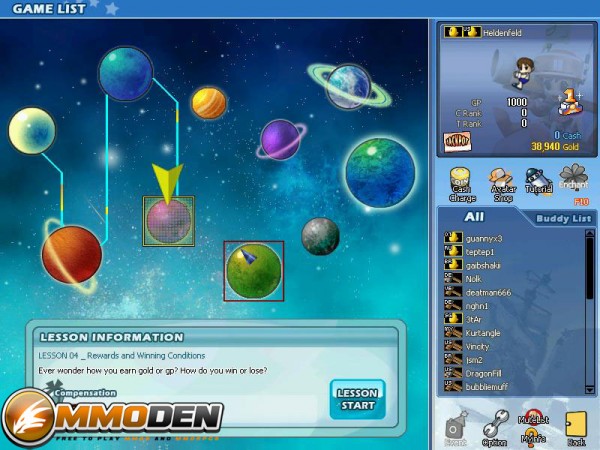 The score mode is the best of all and the most played as well. In this game mode, you can make a team of 8 players and play against another team. You start shooting at each other and whichever team loses all their lives first loses the game.
If you do not have a team, you can play solo matches as well. There are lots of levels to be played and if you really want to enjoy the game, sift through these levels one by one.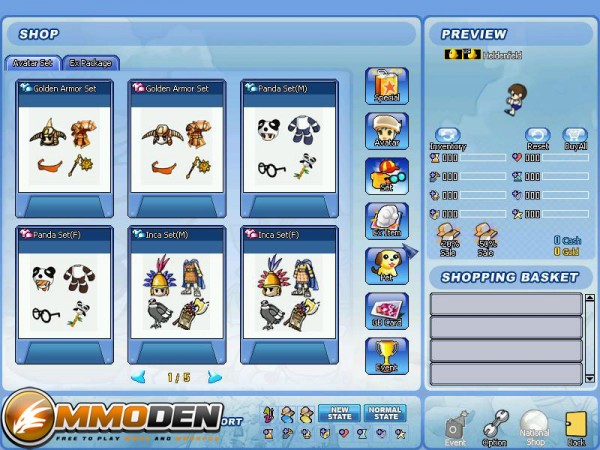 If you are thinking that the game is all about just shooting other people, you are wrong. There is a lot of strategy involved as well. The game has a unique system of delay. Whoever has the least delay in shooting, shoots next. There are three attack modes for each mobile and if you combine the attack modes with the delay mode, you get a great strategy for winning.
Usually the attacks that do more damage are the ones which cause the most delay, so using your attacks wisely would serve you well. If you time your attacks carefully, you may end up shooting twice or thrice in a row, turning the game in your favor.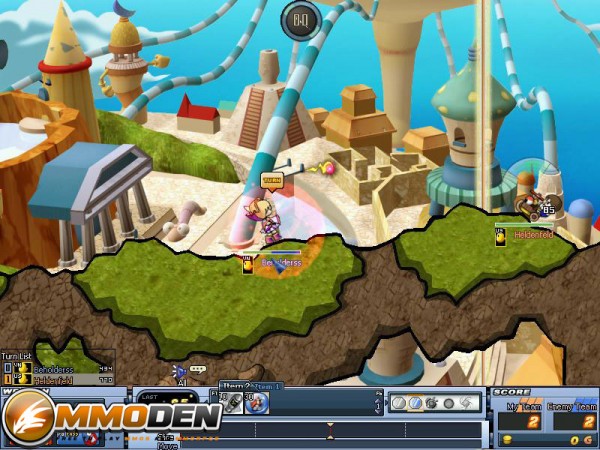 If you are using specific items, your attacks get significantly delayed and this counts towards the delay system of the game. So keeping everything in mind, you can formulate some great tactics for winning. Though the system may sound a little complicated, it is very easy to learn and understand once you have started playing the game.
If you do not understand the delays, you can still have a lot of fun with the game. You can pick up avatars, which are basically items that upgrade your skills and attributes. There is an avatar shop from where you can buy hundreds of different items. The in game shop here is well stocked and this is one of the few games to have such a treat. You can also upgrade your character by purchasing new avatars. Since there are plenty of things to buy, you will not run out of things to strive for.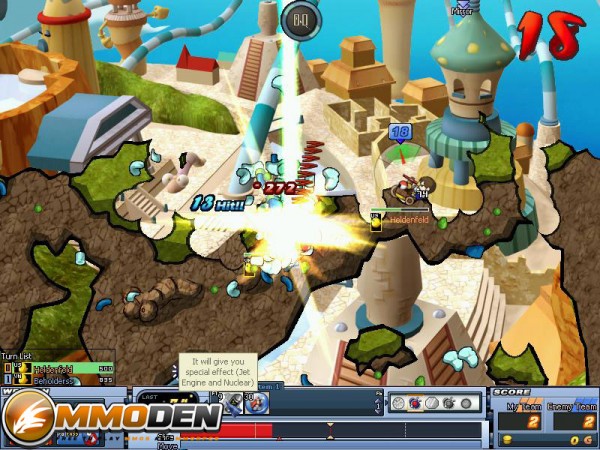 The items that you purchase from the avatar shop are different from one another and greatly varied. If you do not want to spend your money on buying avatars, you can play in the avatar off channel, where you get to play with others who are also not using any upgrades.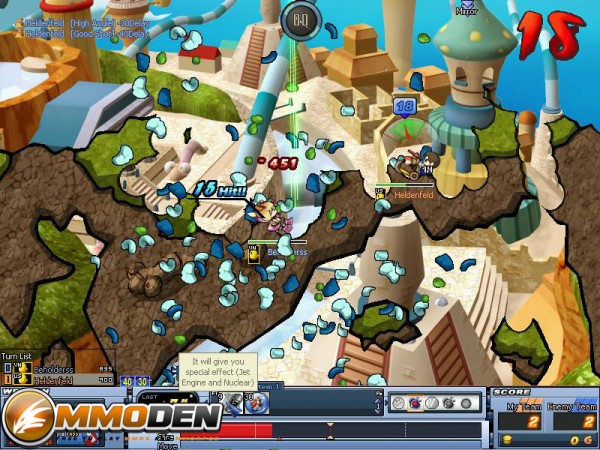 The Final Word
Gunbound is an excellent game and one which you will enjoy a lot. However, the important thing to understand about Gunbound is that it is not a game for everyone. For those who prefer fast paced action based games, turn based games can be quite dull and boring. Taking into account the delay system and the general time that a turn based game takes, the game can stretch on for a bit and if you do not have the patience for it, its better if you stay away.
The game is stocked with fresh products and the developers are successful in keeping the game as bug free as possible. Still, you may occasionally find a hacker who would try to ruin your game for you. Try to overlook that part.
Overall, Gunbound is one of the most unique turn based MMORPGs on the internet today. The game is a lot of fun for those who like this genre and since the game has a lot of variety, you will never feel that it is getting repetitive. The updates and patches keep the game from becoming dull and the large numbers of playable characters are simply outstanding.
Though 3D gaming has overrun 2D games, arcade games like Gunbound can still be a lot of fun. When you want a break from all the 3D fantasy combat games, Gunbound offers a simpler and more enjoyable way to play.
Videos