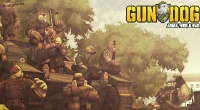 GunDog is a game that blends many things that people like. Guns, Dogs, Collectible Cards, and more are all wrapped into a neat package of a game that at its heart is basically a comicbook style shooter that is free to play. Each player will choose a starting dog that will have a skill set that ranges from medic to sniper to machine gunner and more.
Each character has a different play style and special ability. As players complete matches, not only will they be able to level up and progress their rank higher, but they will also find new dog characters that will be available to them through the games card collecting system.
The concept is neat and adds an additional goal to the traditional shooter game play. Watch my full first look video to see if there is something there for you.
Don't forget to subscribe to our YouTube channel!