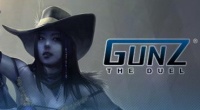 Let's face it. Strategy and fantasy based free to play MMOs pretty much dominate the market. Fantasy world, medieval towns, same old slashing weapons and magic potions. Sure, that all does sound interesting, but for how long? A few years back, almost every other MMORPG was like a clone of another, same old settings, same set of skills and extremely similar quests. And then comes a time when you feel your virtual life is going nowhere but moving in circles. In difficult times like these, GunZ came as a savior for its genre. You just can't wish for a life (virtual though) faster.
What's it all about
Gunz – the duel is among the very first game which literally redefined the MMOs. In 2004, South Korean based company MAIET Entertainment launched it as a free online TPS, but that wasn't the only thing that grabbed every single MMO maniac's attention. GunZ shunned the old fantasy based story lines and offered an experience that was as entertaining and enthralling as a Hollywood action blockbuster.
Unfortunately, like most free MMOs, GunZ was also initially only available for the Korean audience. Although, it was also made available for the worldwide audience as GunZ international and did make quite an impact, but it was soon shutdown. GunZ is now also available for the North American audience.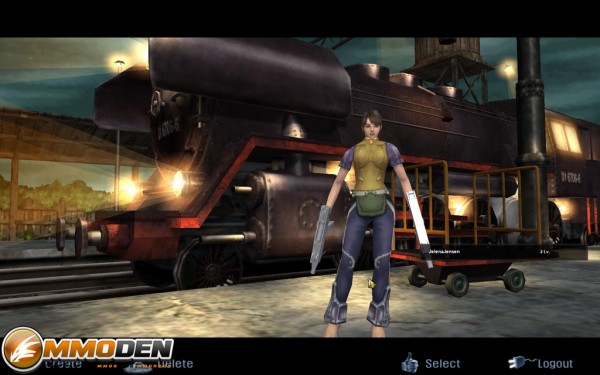 Game play
GunZ definitely adds a lot more to the MMO inventory than simply being a Third Person Shooter. GunZ does offer a unique variety of modern weapons, but it doesn't disrespect the classic swords and daggers. Along with a wonderful display of swordsmanship in the duels, it includes some adrenaline-charging feats and stunts such as deflecting bullets with your sword, back-flipping and running over walls. Only the thought of it could make a gamers' heart beat faster. If you are already a TPS fan with a good amount of gaming experience, you won't find any problem getting used to the controls. No sweat for the traditional WASD lovers.
Along with being a Third Person Shooter, a distinction in itself (at least for its time), GunZ has a lot of variety to offer. Multiple gaming modes, loads of weapons to choose from and a good number of maps to explore, the fun just seems to get more addictive by the moment. You get four choices for the character race which doesn't really affect the game play, except for the weapon you start with, but you can always buy another one from the shop. Level up to get more privileges.
Most people prefer playing in solo 'Death match' where it is you against everyone else. Yet, one of the most interesting modes is the Team death match where your clan faces another clan. As for the weapons, it's either the good old dagger or you unleash hell with a big nasty rocket launcher. Quest modes are a bit difficult, but that's the beauty of it.
Attack and kill is not the only thing that makes GunZ so awesome. In fact, it's the whole dodging sequence that is easy to execute and looks fancy to perform. Tumble, dash, walk on the wall, climb walls or defend yourself with the melee weapons. Most of the moves are unbelievably fast paced, gravity defying to say the least. The main motive is of course survival, but it's quite easy to get injured. You can find a lot of goodies around. These items can do everything from heal you to improve your stamina.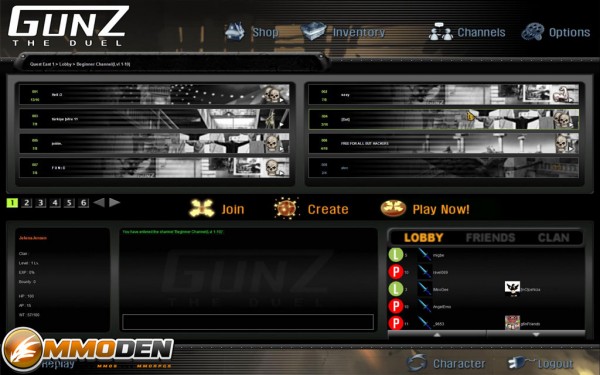 Glitches are Good
Like any other fast paced online game, Gunz does have its fair share of glitches, but these unintentional code errors add some exciting features to the game play. You'll find a lot of experienced players performing unbelievable actions at an insanely fast speed. That's what they call the K-style and D-style. Although it's not the intentional part of the game play, it still adds to the experience. Off course, you won't find any official tips for such actions, but the internet is full of mentors who would love to help.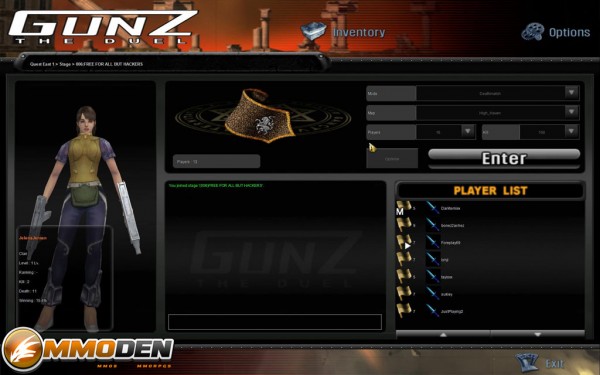 Graphics with Style
Most people won't call it up to standard, but actually they are quite good for such a fast paced Third Person shooter. And keeping in mind that this game is 'free' plus 'online' and among the 'pioneers' of its kind, it does deserve good praise for the graphics. And if you still feel something is lacking, the game play will make up for it.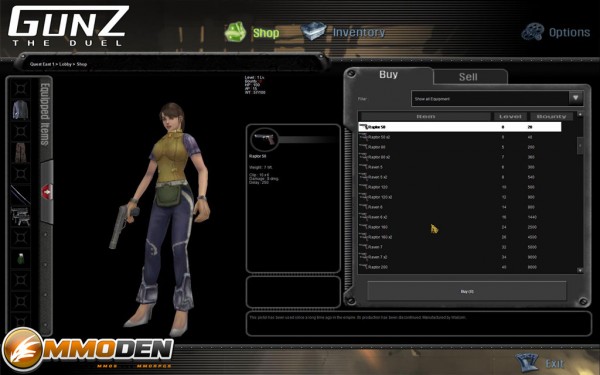 There is a Story Here
Although, a shooter has nothing really to do with a story but hey, what fun it is purposeless shooting and slashing? GunZ does have a pretty good reason for all that bloodshed. To summarize, let's just say that your character is a treasure hunter is in some kind of post war scenario. Of course, you need to get rid of the obstacles and finish off the opponents. Fair enough.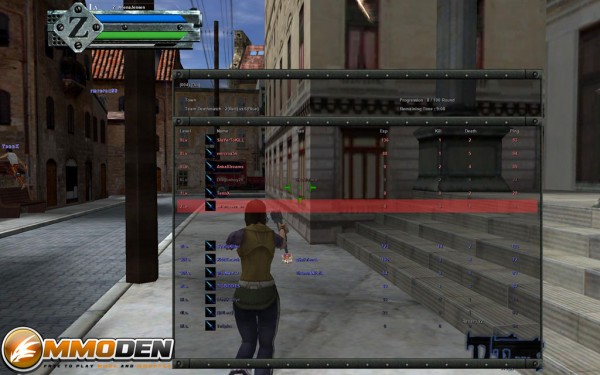 Problem Areas
GunZ offers a really exciting experience for action-hungry gamers, yet there are a few problems that at times do spoil the fun. While players learned to make use of glitches, the lagging issue might create serious problems. Players with slow internet connections experience a lagging character which is more irritating for other players who just can't damage their lagging enemy despite a perfect shot.
Another peculiar thing that might hamper the whole experience is the lack of sound clips. Most of the weapons sound the same. Not like a bang for a sword, but most of the guns have got the same bang,. The same 'swoosh' for the swords off course.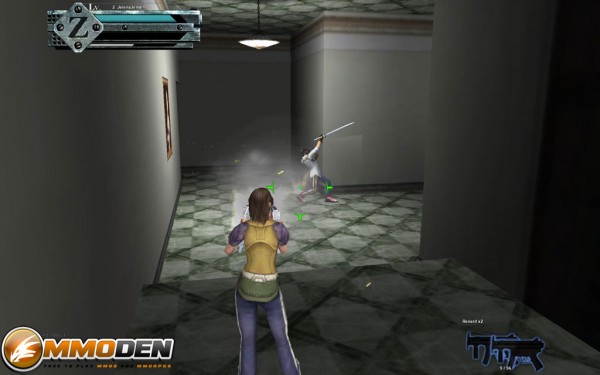 The Final Word
To sum it up, let's just say GunZ, the duel is a must-have experience for all online gamers, especially the freebie diggers. Even if you are not a big MMO fan, GunZ has enough spice to make it to your taste. One of the many reasons for regarding GunZ as a must-have experience is because there are not many games of this type available for free play. Although, there are a few which do come close, but like every legend ,GunZ maintains its own class. That's why it bags a high 'fun to play' score and even higher on the 'replayability' scale.
Videos