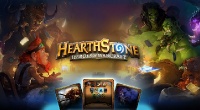 Hearthstone is the latest offering from the team that has brought us such epic titles as Starcraft 2, Diablo, and World of Warcraft. Hearthstone Heroes of Warcraft takes the world of Azeroth and brings it to life in a free to play trading card game. Players will be able to battle it out on game board designed after the iconic zones of the World of Warcraft game world, complete with interactive bits. Battles can be waged between AI or human opponents, and when battles human opponents players can even battle in the arena and take their chances to gain gold, crafting arcane dust, and even card packs.
Card packs open to reveal new cards that players can add to custom built decks, as well as being available when creating Arena decks from the random options. Arcane Dust can be used to craft cards and complete a players inventory of the most powerful cards available.
See more in my First Look and see what Hearthstone truly has to bring to the TCG realm…
Don't forget to subscribe to our YouTube channel!